Paulo Santos
x
Author Following Options:
Idea Generator By Paulo Santos
Investment idea generation service. Covers hundreds of ideas choosing the best, given valuation and catalysts.
Learn more»
See their articles on your Seeking Alpha homepage and in your feed.
Real-time alerts on this author
Get their new articles emailed to you as they are published.
Daily digest on all my authors
Get all your favorite authors' new articles emailed to you in one daily digest.
Send Message
I am a Portuguese independent trader, analyst and algorithmic trading expert, having worked for both sell side (brokerage) and buy side (fund management) institutions.
I've been trading professionally for about 20 years and also launched www.thinkfn.com in 2004. Thinkfn (Think Finance) carries thousands of educational articles on finance and the markets.
I trade futures, stocks from the long and short side, forex and options. I trade both discretionary and fully automated systems (Metatrader, Quantshare and others).
I can be reached at paulo.santosATthinkfn.com or followed on Twitter at twitter.com/ThinkFinance999
Description: Mutual Fund Analyst. Trading frequency: Daily
Interests: Commodities, Developed International Markets, Dividend stock ideas & income, ETFs, Emerging Markets, Energy stocks, Forex, Futures, Options, Stocks - long, Stocks - short, Tech stocks
Arquiconsult
Arquiconsult is an information systems consulting company based on Microsoft technologies, formed by a team of consultants with great experience in such projects operating in Portugal and servicing projects worldwide.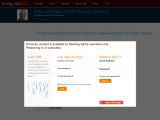 Idea Generator
Idea Generator is a subscription service provided by me, Paulo Santos. In this service, I will go through hundreds of possible investment ideas per week, trying to find those where I believe catalysts and valuation align themselves to produce high likelihood or high expected value situations for the
...
More
Currently, you have no book details. Click edit to add book details.
Can someone in Southern California check if an Albertsons near them carries Alkaline88 and ask store clerks if that water is moving? $
WTER
May 26, 2015
Latest comments on Paulo Santos's Articles
Latest Articles on Short Ideas
Latest Articles on Consumer Goods