Chairman, Founder and Chief Executive Officer at China First Capital (www.chinafirstcapital.com) , a China-based international investment bank and advisory firm for capital markets and M&A transactions.
China First Capital was established in 2007 and has its headquarters in Shenzhen, China. It serves a distinguished group of clients, including industry leaders in China, both private sector companies and SOEs as well as global corporations actively expanding within China.
Peter's insights and analysis on China, its capital markets and private equity industry are often featured in international media including The Wall Street Journal, Financial Times, The Economist, New York Times, Washington Post,
...
More
Bloomberg, China Daily. Peter is an occasional columnist for three prominent Chinese-language business publications, 21st Century Herald, Caijing and Forbes China.

For up-to--date commentary and analysis, visit: www.chinafirstcapital.com/blog

Linkedin profile: cn.linkedin.com/in/peterfuhrman

Founding China First Capital is the fulfillment of a deeply-held ambition nurtured for 30 years. "I first came to China in 1981, as one of the earlier American graduate students in China. I left China after school. But, throughout, I never lost sight of the goal to return to China and start a business that would contribute meaningfully to the country's revival and prosperity."
Description: CEO. Trading frequency: Infrequent
Interests: Developed International Markets, Stocks - long, Tech stocks
China First Capital
China First Capital is an international investment bank and advisory firm for private capital markets and M&A transactions in Greater China. We have significant transactional expertise in major industries in China's private sector, as well as acting as a adviser to some of China's more dynamic State Owned
...
More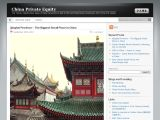 Currently, you have no book details. Click edit to add book details.
Latest comments on Peter Fuhrman's Articles