Since 1989, Phillip L. Clark has been dedicated to serving individuals and small businesses through the process of asset management and comprehensive planning. More than ten years ago, Phillip had the vision to create a firm that would focus solely on the needs of its clients through fee-based planning. Today, OmniStar Financial Group operates as a Registered Investment Advisory Firm, specializing in portfolio management and helping clients make smarter decisions with their wealth. In addition to his role as a Registered Investment Advisor Representative, Phillip played a key role in developing the firm's proprietary AAMP (Asset Allocated Managed Portfolios) program which is used in conjunction with each client's
...
More
Investment Policy Statement. Phillip currently holds his Series 7, 24, 63, and 66 registrations and the Registered Financial Consultant (RFC) designation.

With more than two decades of experience, he has been afforded many invitations to speak at local and national events. Currently, Phillip writes a weekly publication that provides timely market insight and how it affects portfolio management. Many of his articles have been published by newspapers and industry magazines. Phillip has earned the distinction of Top of the Table; an honor reserved for those who are committed to providing exemplary client service while displaying the highest standards of ethics and professional knowledge.
Description: Registered Investment Advisor (RIA).
Interests: Bonds, Developed International Markets, Dividend stock ideas & income, ETFs, Gold, Mutual funds, REITs, Retirement savings, Stocks - long

Ph. Number:

877-323-8877
Location:

NC; US
OmniStar Financial Group
OmniStar Financial Group is an assumed name of North Star Financial Group. North Star Financial Group is a Registered Investment Advisor specializing in wealth management, income planning, estate transfer and corporate benefits. Our proprietary AAMP (Asset Allocated Managed Portfolio) program provides
...
More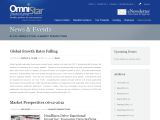 Currently, you have no book details. Click edit to add book details.
Latest comments on Phillip L. Clark's Articles
LATEST ARTICLES & INSTAPOSTS
more »