Why "Playing the Ponzi"? I view the entire monetary and financial system as something of a Ponzi scheme. Starting with currency that is created as debt, and running straight through a global economic model that is based on infinite growth in a finite world. This won't end well. I'd go a step further and suggest that our materialistic value and belief system is another way in which we're building castles on sand… but I digress. I view our financial markets as a casino, and frankly, I like gambling. I prefer technical analysis to fundamental analysis because I find the "behavioral" side of investing more interesting than longer term projections based on financial/numerical analysis. Pictures make more sense to me than
...
More
numbers. I'm dumb like that.

As for an investing "philosophy", I believe in small/micro-caps. I believe the market rewards growth above all else, and growth is easiest (to spot, at least) and most explosive when a company is young and small. As a company matures, its growth inevitably slows. Microcap stocks tend to be extremely volatile so I believe strongly in taking profits on the way up (or exiting quickly if the entry point proves poor). I attempt to buy stocks that are pulling back in the midst of a longer term uptrend. I hold anywhere from hours to years, but usually in the 3-6 month range.

I am an amateur investment enthusiast, who has committed every investing cardinal sin at some point - and sadly, sometimes still do. Between first entering the markets in 1999, and 2002, I lost 90% of my seed money. Since then, I've found an approach that works reasonably well for me. My average return has been about 20% annually since 2003.
Description: Occasional Investor. Trading frequency: Daily
Interests: Bonds, Commodities, Developed International Markets, Dividend stock ideas & income, ETFs, Energy stocks, Gold, Options, REITs, Stocks - long, Stocks - short
Currently, you have no company profile. Click edit to add a company profile.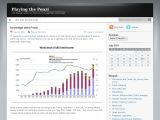 Playing the Ponzi
The financial markets are a passionate hobby of mine. I think our financial system is in essence a giant Ponzi - currency that pretends to be an asset but is really debt, and an economic model built on a premise of infinite growth in a finite world. I don't think this will end well. But in the meantime, I
...
More
Currently, you have no book details. Click edit to add book details.
Latest comments on Playing the Ponzi's Articles