Pring Turner Capital Group is internationally known for its unique business cycle research and technical analysis expertise. Similar to the layers of an onion, the portfolio managers carefully build multiple layers of risk protection into portfolios. In addition, as the economic landscape changes the firm makes asset allocation, sector rotation, and quality adjustments to portfolios. The Pring Turner investment team co-manages the Pring Turner Business Cycle ETF (DBIZ), trading on the NYSE, an actively managed fund based on their six-stage business cycle investment strategy. In addition, the Pring Turner team is authored a book published by McGraw Hill in 2012 entitled, "Investing in the Second Lost Decade."
Description: Registered Investment Advisor (RIA).
Interests: Bonds, Commodities, Stocks - long

Ph. Number:

(925) 287-8527
Email:
Location:

Ca; USA
Pring Turner Capital Group
Pring Turner is passionate about protecting our clients' wealth. Our conservative investment philosophy, born in the volatile markets of the 1970s, stresses preservation of capital. Our firm strives to generate attractive returns with low risk through both good and bad market cycles. Unlike passively managed
...
More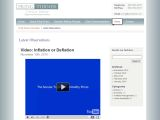 Pring Turner Capital Group
Economic expansions, contractions, and recessions have always had a distinct impact on investments. In fact, financial markets have been following economic cycles for more than 150 years and are linked in a logical, rational, and sequential relationship to business activity. We carefully studied these
...
More

Investing in the Second Lost Decade
Based on extensive studies of previous secular bear markets, the authors strongly suggest that investors should anticipate and prepare for another "lost decade" for stocks. Expect a decade with more frequent recessions and shorter and less robust recoveries. Are you fully prepared for the additional
...
More
Latest comments on Pring Turner's Articles