I have been in the financial services industry for 15 years as a broker, wholesaler and as a director of research for insurance products where I commented on current events and have written studies. I am less active on the trading front than I used to be and primarily buy ETFs and mutual funds, and like to trade currencies.
While I hold extensive knowledge on the markets, I have devoted much of my last few years to the variable annuity industry. These products mix the best of both worlds, investments with guarantees, and I try to help individuals understand how the products work at http://www.annuityiq.com.
I have seen it all in the industry, from the good to the bad, and never hold back what I really
...
More
think is happening. You will find my honesty refreshing and entertaining. I will always admit it if I make a mistake and have thick skin, so feel free to criticize me because I do not know everything, but love to learn.

My user name is my middle name, I use it because I like it and I do consulting work where it makes sense for me to use an alias versus my full name - hey, we all have to make a living, right? Don't get your hopes up for inside info, I work with insurers on the product development side.

I strongly advise any reader to make sure they do their own research or consult a financial advisor before investing in anything.
Description: Company executive. Trading frequency: Daily
Interests: Bonds, Dividend stock ideas & income, ETFs, Forex, Mutual funds, Options, Retirement savings, Stocks - long, Stocks - short, Tech stocks
Annuity IQ
Variable annuities are complicated, but important investment vehicles. At Annuity IQ we reduce that complication by analyzing and rate variable annuity contracts. We are unbiased and straight forward in all of our information. By not holding back we provide investors and advisor's streamline information to
...
More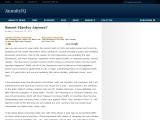 Annuity IQ Blog
Timely economic and market commentary to help you sort through the numbers and chaos of what the media feeds you. You will also find commentary on political happenings and even a lighter side of our views as we poke fun at others.
We are not always right, but we have a great track record.
Currently, you have no book details. Click edit to add book details.
Latest comments on Ray's Articles