Im an individual investor with 15 years of experience focusing on small to mid cap value investments. I believe that focusing on smaller companies can be an advantage, but I do not limit my focus entirely. I believe value investing is the best strategy for long term wealth creation, and spend my time looking for cheap securities.
Description: Occasional Investor. Trading frequency: Infrequent
Interests: Stocks - long, Tech stocks
Currently, you have no company profile. Click edit to add a company profile.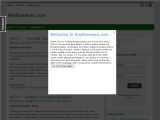 Ray Bonneau's Blog
Ray Bonneau is a private, individual value investor and searches for undervalued opportunities to profit.
Currently, you have no book details. Click edit to add book details.
Latest comments on Ray Bonneau's Articles
LATEST ARTICLES & INSTAPOSTS
more »