Mr. Berger is the creator and developer of the YDP screening tool, a chart system and its analysis for screening and monitoring dividend income equity investments. The recipient of Seeking Alpha's Outstanding Performance Award ( http://seekingalpha.com/article/2830416-announcing-this-weeks-reader-and-contributor-nominated-performance-award-winners ), he also has been Seeking Alpha's #3 ranked Author for Income Investing Strategy & #4 for Utilities. 20 years of sitting in the board room gives me unique insights into Oil & Gas investments and corporate deal making in general. Additionally, he offers a Premium Research subscription service for boosting income while reducing market risk using covered option writing
...
More
on a dividend income equity portfolio ( https://secure.seekingalpha.com/account/research/subscribe?slug=richard-berger ).

Residing in Brazil gives me a local's inside view on the pulse of its economy, politics, investment climate and breaking news.

A former Chief Operating Officer, Director, Vice President and General Manger of Oil and Gas for Southern Pacific's Oil and Gas Operations, Business owner, geologist, and cribbage player, I've been an investor for over 48 years (started young at 13) and learned my lessons the way that makes them stick, by hard knocks and both big and little mistakes. Hopefully I can share some of those lessons with others.

I am an American expatriate that decided to retire at age 57 in 2009 and now live in Brazil. As an early retiree I invest for income and manage portfolio risk by screening for strong and reliable historic data along with favorable fundamental and technical current trends.

I spend 6 months/year living at home in Brazil and 6 months/year traveling the world. I have structured my financial positions so that I live virtually tax free with much of my income exempt from US tax since I live ex patriot and a lot of my US derived income over the annual ex-patriate exemptions is held in my tax free ROTH and tax deferred IRA/SIMPLE plans. This enables my tax savings to pay for my 6 months of annual traveling :) .

My investing is for income and appreciation with a balance of low to moderate short term risk and low long term risk. To accomplish this I use quality dividend payors with a long track record of steady or increasing dividends along with slowly appreciating equity prices. I target a 6 to 9 % yield and almost exclusively require a minimum history of 5 years of steady/increasing dividends and no decreases in dividend ever or at least past 10 years. I diversify through sector, country and currency unit the stocks are traded in, and security type (equity, royalty trust, REIT, mlp, etf, and ADRs).

I use covered call writing to enhance my portfolio yield with no added risk. In fact, it lowers the risk substantially. Once I identify a stock I want to own and an entry price for it, I write cash covered puts at or below that entry price (with a minimum of 1%/month time premium. Thus i obtain at least a 12% annualized yield before compounding just from the option premium.

Likewise, I use the sale of cash covered puts to generate income and and generally get an entry point at 5 to 10% below my acceptable entry level price if/when the put stock does get presented. Thus my strategy provides a 12% pre compound yield on cash and entry into stock purchases at a 5 to 10% discount from "retail".

Because I only select stocks that I am willing to hold long term for their reliable dividend yields of > 6%, I am not concerned much with market volatility or short/midterm risk. Indeed, market volatility is my friend since it increases the premiums paid on the options I sell. I also selectively sell covered calls on positions I hold long so as to add to my yield that way while not taking on any additional risk.

This strategy has kept me happily living off my portfolio income and traveling 1/2 the year while my portfolio has been slowly increasing in value even after my harvesting income for living expenses. Of course my income will incrementally increase when social security kicks in for me in a few more years and I may then slightly mofidy my goals and strategies.

Readers can get an e-mail once a day from Seeking Alpha that lists all newly published articles of ALL the authors they follow in a single e-mail. To get these updates:

- a - Click "Alerts" along the top menu tab (just left of the green PRO tab)

- b - Scroll all the way down, and check the box for "author alerts" (2nd box from the bottom)

- c - Then you'll be notified by Seeking Alpha once per day of new articles by all authors you follow (in a single e-mail)
Description: COO. Trading frequency: Monthly
Interests: Developed International Markets, Dividend stock ideas & income, ETFs, Energy stocks, Gold, Mutual funds, Options, REITs, Retirement savings, Stocks - long
Income From Covered Option Writing
Each month I provide research on 5 or dividend income equities and specific actionable covered option writing for them to boost income while reducing market risk. For an example of the type of material you can expect, please see the introductory material at
...
More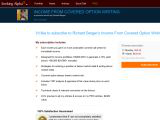 Income From Covered Option Writing
Thanks for taking the time to explore my writing. I am an early retiree (retired at 57 ) with a focus on a diverse portfolio of quality dividend income equities. I also use covered option writing to boost yield and lower market risk (as opposed to speculative leverage use of options -- the risky way to use
...
More
Currently, you have no book details. Click edit to add book details.
$0 .. Interested in entering a position or yield boosting O? I am offering a free copy of my new Research. Msg me to w/email to request
Aug 8, 2015
Latest comments on Richard Berger's Articles