Roger Conrad needs no introduction to individual and professional investors, many of whom have profited from his decades of experience uncovering the best dividend-paying stocks for accumulating sustainable wealth.
Roger Conrad founded and ran the Utility Forecaster and Canadian Edge newsletters before leaving to form his own publishing company, Capitalist Times (www.CapitalistTimes.com). During his almost 30-year tenure at Utility Forecaster, Hulbert Financial Digest routinely ranked the publication as one of the best investment newsletters.
His new publication, Conrad's Utility Investor (www.ConradsUtilityInvestor.com), continues his in-depth coverage and analysis of more than 200 essential-services
...
More
stocks, primarily utilities and telecoms. Roger Conrad is also an expert on master limited partnerships (MLP) and the Canadian energy sector, which he covers for Energy & Income Advisor (www.EnergyAndIncomeAdvisor.com).

He's also an independent trustee of Miller/Howard High Income Equity Fund and the author of Power Hungry: Strategic Investing in Telecommunications, Utilities and Other Essential Services. Although he spends a good deal of time in front of a Bloomberg terminal or reading 10-K and 10-Q reports, he's also an avid outdoorsman and baseball fan.

The masthead may have changed, but readers can count on Roger to deliver the same high-quality analysis and rational assessment of the best dividend-paying utilities, MLPs and dividend-paying Canadian energy names.
Description: Investment Consultant. Trading frequency: Infrequent
Interests: Dividend stock ideas & income, Energy stocks, Stocks - long

Conrad's Utility Investor
They say you should invest in what you know. I've covered the utility sector and essential-services stocks for almost 30 years, helping individual and professional investors to build sustainable wealth for themselves and their clients. And you don't have to take my word for it: The Hulbert Financial DIgest
...
More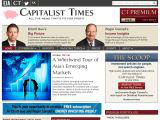 Capitalist Times
Elliott H. Gue and Roger S. Conrad founded the Capitalist Times with a simple goal: to provide individual investors with unbiased, high-quality research and in-depth analysis of profitable investment opportunities.This approach runs counter to much of what passes for investment commentary in an information
...
More
Currently, you have no book details. Click edit to add book details.
$
TE
putting it up for sale has prompted speculation about who's next. My Top 5 Utility Takeover Plays:
http://bit.ly/1D04jly
Jul 24, 2015
Latest comments on Roger S. Conrad's Articles