Rudy Martin is a consultant with experience in technology, communications and finance. He's also the former director of research for TheStreet.com Ratings.
Earlier he worked 25 years in investment research and management positions with Fidelity Investments, Lincoln National, Dean Witter Reynolds and Transamerica Investments. He began his career as a securities investment analyst at Duff and Phelps where he published equity and fixed income securities investment recommendations.
Mr. Martin frequently speaks about financial markets and global equity investing. He has been featured in numerous publications and online media outlets.
Martin holds a master's degree in finance from Kellogg
...
More
Northwestern University and is active in non-profit organizations such as Mission Economic Development Agency.
Description: Professional Blogger. Trading frequency: Monthly
Interests: Alternative Investments, Developed International Markets, Dividend stock ideas & income, ETFs, Emerging Markets, Energy stocks, Gold, Mutual funds, Stocks - long, Stocks - short, Tech stocks

Acamar Global
Acamar Global publishes online trading and stock investing newsletters. We focus on offering distinct, objective, views on the global economy and stock markets. We are not a registered investment adviser nor do we sell securities. For information about our approach visit our website at www.acamarglobal.com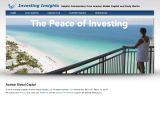 Currently, you have no book details. Click edit to add book details.
Latest comments on Rudy Martin's Articles