Russ Koesterich, CFA, Managing Director, is the Chief Investment Strategist for BlackRock and iShares Chief Global Investment Strategist. He is a founding member of the Blackrock Investment Institute, delivering BlackRock's insights on global investment issues.
Mr. Koesterich's service with the firm dates back to 2005, including his years with Barclays Global Investors (BGI), which merged with BlackRock in 2009. At BGI, Mr. Koesterich was the Global Head of Investment Strategy for active equities and a senior portfolio manager in the US Market Neutral Group. Prior to joining BGI he was Chief North American Strategist for State Street Bank. Mr. Koesterich began his career at Instinet, where he occupied several
...
More
positions in research, including Director of Investment Strategy for both US and European research.

Mr. Koesterich is a frequent contributor to financial news media and can regularly be seen on CNBC, Fox Business News and Bloomberg TV. He is the author of two books, including his most recent "The Ten Trillion Dollar Gamble," which details how to position portfolios for the impact of the growing U.S. deficit. Russ is also regularly quoted in print media including the Wall Street Journal, USA Today, MSNBC.com, and MarketWatch.

Mr. Koesterich earned a BA degree in history from Brandeis University in 1987, a JD degree from Boston College in 1990 and an MBA degree in capital markets from Columbia University in 1995.
Description: Mutual Fund Manager.
Interests: Bonds, Commodities, Stocks - long, Stocks - short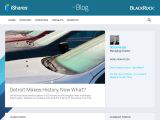 The Blog
Blackrock believes in openness, transparency, and honesty. It's how we fulfill our mission: empowering investors and investment professionals to achieve their goals. The Blog furthers that commitment, by providing visitors to the Blog with market insights and analysis from some of the preeminent thought
...
More
Latest comments on Russ Koesterich, CFA's Articles