Russell Bailyn is a Wealth Manager with Premier Financial Advisors, Inc., an independent financial planning and investment advisory firm located in Manhattan. Mr. Bailyn is also a registered representative with First Allied Securities, Inc., a FINRA/SIPC member broker/dealer firm. Mr. Bailyn holds series 7, 63, and 65 licenses along with his Life, Accident, and Health Insurance License. He is currently sitting for the Certified Financial Planner (CFP) designation.
Mr. Bailyn is the author of Navigating the Financial Blogosphere, a personal finance book published by John Wiley & Sons in September, 2007. The book is based on his highly trafficked financial planning blog and addresses commonly asked personal
...
More
finance questions. The book is available in Barnes & Noble and Borders bookstores in the United States, Canada, and the UK, and on Amazon.com. Mr. Bailyn also writes a personal finance column for the New York Law Journal.

Mr. Bailyn specializes in low-cost portfolio construction, 401k rollovers, and detailed personal financial analysis. His ideas and opinions have been featured in countless publications including Investor's Business Daily, Wealth Manager Magazine, TheStreet.com, About.com, Forbes.com, Consumer Reports, Seeking Alpha, AM New York, Financial Advisor Magazine, The Journal of Financial Planning, and many others. His professional affiliations include The Author's Guild and The Financial Planning Association. Mr. Bailyn holds a Bachelor of Science degree from New York University.

He can be reached via e-mail or by calling (212) 752-4343 Ext. 231
Description: Portfolio manager. Trading frequency: Daily
Interests: ETFs

Ph. Number:

212-752-4343 Ext 231
Location:

New York; United States
Premier Financial Advisors, Inc
Our firm is comprised of six planners overseeing roughly $200M on behalf of over 300 families and individuals. At Premier Financial Advisors, we help guide you through the financial decisions that make a difference in your life and the lives of your loved ones. We proactively help you build, preserve and
...
More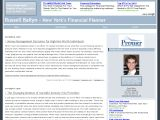 Russell Bailyn's Financial Planning Blog
I started russellbailyn.com as a forum to discuss commonly asked financial planning questions. Over the past four years I've included discussions on financial products ranging from mutual funds to exchange-traded funds and annuities. I've also had plenty of economic commentary since macro issues seem to be
...
More

Navigating the Financial Blogosphere
Welcome to all those who have purchased or are considering reading "Navigating the Financial Blogosphere: How to Benefit from Free Information on the Internet." While many of us trust the advice of so-called "experts" when it comes to our financial well-being, the fact is that many of these professionals
...
More
Latest comments on Russell Bailyn's Articles