A financial analyst & forecaster. I look at everything, but drill down into secular trends, equity investment strategies and asset/sector allocation models. 20 years experience in asset modeling, investment analysis/general dd, portfolio mgt, and macroeconomic analysis. To that end I've worked extensively with equities, fixed income, commodities, private equity, currencies, and derivative products.
Worked with Merrill Lynch, Goldman Sachs, Charles Schwab, Morgan Stanley and many others as an institutional trader, published hundreds of actionable investment models and valuation studies, and conducted primary S&P 500 member research for several hedge funds.
My commentary and educational library
...
More
appears on Investopedia.com, and analysis has appeared in Barron's, WSJ.com, TheStreet.com, and Forbes.com, yada yada.

I believe that equity analysis originates within a methodical, objective, and analytical framework. Influences include some Austrian, some Chicago, some Keynesian, a healthy dose of Emerson and William James. Kahneman, Graham, Buffett, Lynch, Dalio, Siddhartha.

True Alpha involves equal parts science and art, and this begins with a cohesive vision of the way the world will be in the future. From that belief can come logical theories that apply to specific technologies, business models, and industries.

Failures should be appreciated as much as successes, so long as the investor can approach both with a relative calm. Success in the long run is the only goal that truly matters, so we must practice with intent, no matter what the short-term noise reinforces or contradicts. The markets are always seeking an inherent balance, and my research style seeks to profit from imbalances when they appear.
Description: Full-time Investor. Trading frequency: Weekly
Interests: Alternative Investments, Bonds, Commodities, Dividend stock ideas & income, Gold, Options, Stocks - long, Stocks - short, Tech stocks
Currently, you have no company profile. Click edit to add a company profile.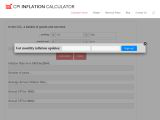 CPI Inflation Calculator
In today's market, getting a real sense of where inflation is and where it's going may be the most important function of a money manager. It's also harder to do than at any time in memory. While the government stats and indicators are a great wealth of knowledge, they must be parsed by experienced eyes to
...
More
Currently, you have no book details. Click edit to add book details.
Long as of yesterday in $
CRTO
, we're going to have a great day. Co. Guides to $430-440m from $403m
http://bit.ly/1zNWMh2
Feb 18, 2015
Latest comments on Ryan Barnes's Articles