Clark Schultz is a financial writer and editor who lives in the St. Louis, Missouri area with his wife and three young children. He graduated from Washington University in St. Louis with a degree in Economics. He has contributed to major financial websites and print publications for over 10 years and created the websites MoneyRates.com and Savings-Investor.com which were eventually sold to a San Francisco-based company. His work with those sites has been cited in The Wall Street Journal, New York Times, Barron's, and other major publications. Hobbies include basketball, tennis, and music.
Description: Journalist. Trading frequency: Monthly
Interests: Dividend stock ideas & income, ETFs, Mutual funds, Stocks - long, Tech stocks

Great Sky Inc.
Great Sky Inc. provides online content to major financial sites covering economics, banking, savings, personal finance and investing.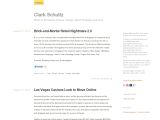 Clark Schultz blog
Short takes on economics, finance, consumer stocks, entertainment, and other random topics.
Currently, you have no book details. Click edit to add book details.
LATEST ARTICLES & INSTAPOSTS
more »