Sahil Alvi is a management consultant, economist, intra-preneur, and writer.
Sahil lives and works in Dubai. He is strategy consultant with a global consulting firm where he leads the firm's strategic and business development initiatives including origination of strategies and opportunities for the firm and its clients.
Sahil started his career with the Advisory practice of Ernst & Young in Atlanta. Along the way, he helped build a startup into a high-growth enterprise in Miami. Sahil has also held a management consulting position with PricewaterhouseCoopers in Los Angeles.
Over the course of his career, he has advised several Fortune 500 clients and startups on strategic, financial and
...
More
operational issues.

His functional experience includes a variety of disciplines such as: Commercial Due Diligence / Investment Analysis, Growth Strategy, Business Transformation, and Risk Management.

Sahil's industry experience spans:

- Financial Services (Insurance, Private Equity, Venture Capital & Hedge Funds)

- Real Estate & Hospitality

- Healthcare (Payors and Providers)

- Distribution & Logistics

- Consumer Internet/Web 2.0

- Energy & Natural Resources

- Special Economic Zones.

He has had the opportunity to live or work across: US, India, UAE (Dubai / Abu Dhabi), Canada, Netherlands, Germany, France, Saudi Arabia, Oman, Qatar, Bahrain.

Sahil holds an MBA (Entrepreneurship) from Wake Forest University in North Carolina, USA and a BA (Economics) from University of Bombay in Bombay, India.

Sahil's avocations include: Tennis, Product & Furniture Design, Abstract Expressionistic Painting, Photography, Biking, Blogging, and Reading Literary Classics, Poetry, Management Thinking, and Economic Policy tomes.

He can be reached at: sahil.alvi@gmail.com
Description: Company executive. Trading frequency: Infrequent
Interests: Bonds, ETFs, Forex, Options, REITs, Stocks - long, Stocks - short, Tech stocks
Holistic Capital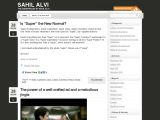 The Essentialist by Sahil Alvi
A blog on Economics, Finance, Venture Capital, Investing & Trading, Strategy, Innovation, Leadership, Entrepreneurship, Geo-politics, among others.
Currently, you have no book details. Click edit to add book details.
Latest comments on Sahil Alvi's Articles