Scott Nursten - Founder / CEO at STRIDE Value Investing
Twitter: @STRIDE_VI
Linkedin: uk.linkedin.com/in/scottnursten22
Background:
I am a CEO/MD with broad experience in all aspects of running a company. Having worked my way up through the ranks over the past 18 years, I have worked in every role - from front-line support, through middle management and up to the executive level. A strong background in business, financial analysis and technology has enabled me to become involved in 4 rapidly growing businesses.
Experience and Credentials:
Chief Operations Officer at Greenlight Limited since June 2011.
Managing Director at Rescue Consulting since November
...
More
2010.

Founder and the Chief Executive Officer at Stride Ltd since September 2008

Served as Managing Director at s2s Limited from January 2008 to August 2010.

Owner and Chief Executive Officer at s2s Limited from March 2000 to December 2007.

Managing Director and Director of Cisco Systems, Inc.'s Gold Partner s2s Ltd.

Founded and served as Chief Executive Officer of s2s Limited.

Served as Technical Director at Data Control & Systems from June 1995 to December 1999.

Non Executive Director at Struto since January 2011.

Serves as a Director of S2S Limited.
Description: CEO. Trading frequency: Daily
Interests: Developed International Markets, Dividend stock ideas & income, Options, Retirement savings, Stocks - long

STRIDE
The STRIDE engine collects complex financial data from markets around the world. It extracts, analyses and refines this data using 3D value investing criteria, triangulating optimum long-term investment choices. STRIDE sees through market hype and discounts diverse reporting models to reveal true inner
...
More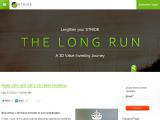 The long run
The STRIDE Blog discusses everything related to value investing, covering industry related news, education and value investing advice.

3D Value Investing Triangulating The Best Investment Targets
A combination of fundamental analysis, valuation and timing, 3D Value Investing is changing the way many investors choose to select and manage their investments. Each dimension of 3D Value Investing has been used alone before but it's the first time all three have been blended in this way – with outstanding
...
More
$
AAPL
STRIDE fair value up to $135.84 with 10.07% forecast growth. Fly tiny tech stock, fly :)
http://j.mp/1ENijQ8
May 6, 2015
Latest comments on Scott Nursten's Articles