Sheff can be followed at twitter.com/SheffStation. He is an investor & trader of big board, small cap, and biotech stocks. He uses fundamental analysis and extensive DD (due diligence) to trade. Over the years, he has learned a great deal about how the FDA works and what they look for when considering a drug for approval. His success record in stock picking and many yrs in the biotech & pharmaceutical industry has helped him in his analysis of biotech & pharma stocks. His goal is to find undervalued companies and help the individual investor by discussing clinical data that could be relevant in how the FDA will make a decision for a drug or clinical data.
Do your own due diligence and never buy a
...
More
stock based on what Sheff discusses or says.

Sheff is is not a licensed broker or financial advisor of any kind nor is he qualified to act as an investment advisor. His articles are written for discussion purposes only. None of the information written about by Sheff is to be construed as financial or investment advice. The information shared is not to be construed as an offer to buy or sell any security. Sheff works diligently to avoid misstatements of fact, but advises all investors to consult a licensed profession prior to making an investment in any stock he discusses. The information on this site is gathered from sources available to the public

Sheff's hobbies are reading, family, and helping people. I enjoy the work I do as a Chemo Specialist in many cancer centers and the volunteer work as a member with a Cancer Organization where I raise money for awareness & other programs vital for children with different forms of cancer.
Description: Independent trader. Trading frequency: Monthly
Interests: Stocks - long
Currently, you have no company profile. Click edit to add a company profile.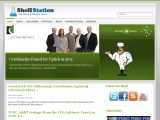 Latest comments on Sheff Station's Articles
LATEST ARTICLES & INSTAPOSTS
more »