The shocked investor was originally on a mission to uncover the dark truth about whether my money, and your money, had been invested in worthless asset-backed commercial papers. For this purpose I created a blog which has since then has taken a life of its own and grown in popularity. I now discusses many other investment topics including currencies, gold, agri-food stocks and options.
The Shocked Investor was the founder of a high-tech company in Canada which was sold in 2007. While with this company he acted as Vice-President of Engineering overseeing its R&D operations. The Shocked Investor does not consider himself by any means a financial expert, but has over 20 years of investing experience. He holds a
...
More
Ph.D. in Electrical Engineering (genetic algorithms for ASICs). He is also the author of a Skype public chat API, and of financial analysis software (number crunching, optimization), and has been interviewed by BNN TV in Canada.
Description: Occasional Investor. Trading frequency: Daily
Interests: ETFs, Forex, Options, Tech stocks

Nexalogic
Nexalogic is a high-tech company specializing in developing custom financial and comunications applications. Our competencies include: Nexalogic specializes in developing custom financial applications that are vital to your company's success. Optimization, number crunching, Trading strategy assessments and
...
More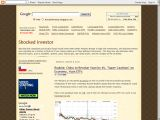 Shocked Investor
Shocked that companies and mutual funds would invest OPM (Other People's Money) in high-risk investments, the Shocked Investor was originally on a mission to find out if our money ended up in these dubious instruments. This blog now also discusses other financial topics, such as straddles, options, gold,
...
More
Currently, you have no book details. Click edit to add book details.
Latest comments on Shocked Investor's Articles
LATEST ARTICLES & INSTAPOSTS
more »