I am a computer scientist in my early 30's and believe that with consistent investing and the power of compounding, my family will be able to live off of dividend income in retirement.
Description: Occasional Investor. Trading frequency: Monthly
Interests: Dividend stock ideas & income, Retirement savings, Stocks - long
Currently, you have no company profile. Click edit to add a company profile.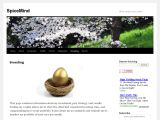 SpiceMind
My blog contains information about my regular and retirement dividend-growth portfolios. These are real money portfolios that I hope will one day provide my family a comfortable retirement funded purely from dividend income.
Currently, you have no book details. Click edit to add book details.
Latest comments on Spice Mind's Articles
LATEST ARTICLES & INSTAPOSTS
more »