Science/medical/IT/business background; grew account these last 14 years by concentrating investments in the sector that was most outta-whack and exiting when sorta outta-whack. Preferred a few investments with a margin-of-safety rather than a so-called 'diversified' portfolio.
Currently invested in 2019 natural gas futures using 2x leverage. To hedge against a severe correction, have shorted an equal dollar amount of EUR/USD (closed forex positions; see below). The US dollar is one of the few assets that will go up in price (vs. most paper currencies) with a liquidity crunch. In the more likely event that we continue to just mosey along, the US economy will likely outperform other developed regions, like the
...
More
EU, which eventually will drop the Euro by over 10% from the current $1.34 level.

Calendar 2019 natgas trading at $4.45 on 8/18/14.

Note: Closed EUR/USD position mentioned above at $1.18. This ends a long dollar position that started with Yen at 79 (closed at 99); then Euro from $1.36 to $1.18. 1/12/15

Due to flat futures curve, and to give more time for market to get back to something close to the full-cycle cost of production...as U.S. demand ramps, 'sweetspots' deplete and the US$ devalues (vs real assets)...have rolled 2018-natgas contracts to 2019 (7 cent "up-charge"). June'15
Description: Occasional Investor. Trading frequency: Infrequent
Interests: Energy stocks, Forex
Currently, you have no company profile. Click edit to add a company profile.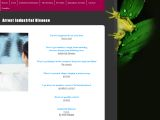 ArrestIndustrialDisease.org
We can use the symptoms of Industrial Disease to monitor our Impact. Our Impact is summed up by this relationship: Population x Consumption level x Method of consumption. We need to adjust each of these variables until the symptoms: ocean fisheries depletion, ocean acidification, ground water depletion,
...
More
see Blog info
Latest comments on Steve Bass's Articles