From a very young age, Steven learned the value of money and saving. He started saving money when he was only five, washing his father's car and started to invest in Dutch shares when he was fourteen.
Following university in Amsterdam, Steven pursued a career in merchant banking in The Netherlands. Since 1989, he has been living and working in London.
Steven left the City in 1998 and since then, has been involved both as a founder as well as an early stage investor with a number of online and mobile telecoms ventures, including Ukonlineinvesting.com – a now defunct website which was aimed at longer term investors interested in making better informed investment decisions.
In 2009, Steven started
...
More
Early-Retirement-Investor.com, a website aimed at professionals and expats wanting to retire earlier and richer. In 2010, Steven launched Dividend Income Investor, to demonstrate the benefits of dividend income investing based on his own unique investment research approach, buying shares at historically undervalued levels.

For more on Steven, click http://www.dividend-income-investor.com/about-steven-dotsch/
Description: Newsletter author. Trading frequency: Infrequent
Interests: Developed International Markets, Dividend stock ideas & income, Stocks - long

EMAR Publishers
Dividend Income Investor.com has been created to demonstrate the benefits of our dividend income investment strategy based on our unique investment research approach. At heart we are deep value investors, with a twist. Dividend Income Investor.com aim is to maximise total returns by providing timely
...
More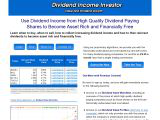 Dividend Income Investor.com
Using our proprietary algorithms, we provide you with the historically undervalued and overvalued buy and sell zones for many dividend paying companies.Sign up today, and you will gain immediate access to the following benefits:1. Access to our Dividend Value Watchlist, including an overview of the prices at
...
More

Guide to Dividend Investing
Most of us have to work hard for our money, so it makes sense to put as much as possible of that hard-earned cash to work for us using a safe and sound investment strategy – that is exactly what the Guide to Dividend Investing provides. But do you know how to spot dividend yields, when dividend paying
...
More
Latest comments on Steven Dotsch's Articles