In January 2015, Steven launched the Uguisu Value letter. Published quarterly, each issue features one thoroughly researched Japanese smaller-cap equity write-up that has baseline 2x upside. With returns of 30%-plus (40%+ yen-denominated) in 2013 and 2014, Steven remains focused on smaller caps as he invests alongside subscribers and maintains a concentrated portfolio. For more details see: http://steventowns.com/uguisu-value-newsletter/
Steven is also the author of 'Investing in Japan: There is no stock market as undervalued and as misunderstood' (2012). 'Investing in Japan' fills the void of information about Japanese stocks, providing a comprehensive overview of the market, challenging conventional wisdom of
...
More
Japan being on its last leg, and providing insightful discussion of many key aspects to investing in Japan, including the strategies of investment funds, leading hedge funds, idiosyncrasies of the market, returns on equity, shareholder rights, and more. See book detail page below or paste the following book link to Amazon in your browser: http://amzn.to/AENfeH
Description: Small business owner. Trading frequency: Monthly
Interests: Developed International Markets, Dividend stock ideas & income, Stocks - long
Uguisu Research, LLC
Uguisu Value, published quarterly, features one in-depth write-up of a Japanese smaller cap stock that has baseline 2x upside. The editor invests alongside subscribers and has earned 30%+ (40%+ yen-denominated) returns in 2013 and 2014 in a concentrated portfolio of Japanese smaller cap companies. See link to
...
More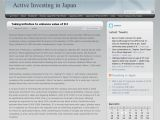 Active Investing
Value investing and shareowner activism. Focused on mispriced equities in Japan and North America. Also, reviews and posts of value investing material from the classics to new books and other materials. Periodic sharing of proxy proposals and activism with portfolio holdings.

Investing in Japan
Within "Investing in Japan," the following among many other points are discussed:
Brief overview of value investing (helpful to those less familiar; hearing its merits is never redundant to practitioners); Challenge the conventional wisdom of Japan being on its last leg, a kind way of
...
More
If you invest in Japan and are a value investor (smaller caps), the 3rd issue of my newsletter publishes this weekend. See my profile. $
EWJ
Jul 24, 2015
Latest comments on Steven Towns's Articles