An experienced research and advisory team of Traders and Forecasters have combined to offer free services and alerts at StockReversals.com, A free growth stock profile, research and alert service with benefits. Go to the website to subscribe for free. We also offer StockReversalsPremium.com which offers a combination of long term growth stock profiles with massive upside potential, plus swing position trading (days to 8 weeks holding).
Seeking Alpha Certified and Frequent Contributor to numerous financial websites. We specialize in behavioral analysis as it applies to market patterns and reversal trends. These trends happen over short term, intermediate, and long term time frames. We help our free subscribers
...
More
with Business Disruptor growth stocks that crush the market. Sample picks include FB, YY, DATA, INVN, SPCB, MOBI, CUR and many more. In 6 months we had 6 doubles, 1 triple, and 16 of 19 companies up 30-50% or more.

Our work centers around a combination of Elliott Wave Theory, Technical Analysis, Human Behaviors, Sentiment, and Business Disruption analysis.

We have advisory clients from around the world. South Korea, Australia, Canada, Sweden, Germany, The Netherlands and of course the U.S.

We give away our service for free because of the laws of nature which we have on our website:

"The possession of knowledge, unless accompanied by the manifestation and expression in sharing is a vain and foolish thing. The Law of Use is universal, and he who violates it suffers by reason of his conflict with natural forces."

Join us today at stockreversals.com and sign up for free.
Description: Investment Consultant. Trading frequency: Weekly
Interests: ETFs, Stocks - long, Tech stocks

StockReversals.com
A Free service for Traders and Investors. Our aim is to reduce risk and focus on fundamentals and mis-priced securities. We look at each company as if we were buying a private business. Often the public markets provide extreme values and we sniff them out for our free subscribers. We research and report on
...
More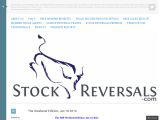 StockReversals- A Free Investment Alert Service
Free subscription offered to receive 2-3 company profiles a month for Business Disruptors that we think have potential near term to reverse and head higher. Recent winners, XON, CHRS, QURE, BLUE, TASR and more. Check us out and learn more on our site.We also offer a premium service at $54-$99 per month for
...
More
Currently, you have no book details. Click edit to add book details.
$
XON
they are giving this future industry disruptor away after the crash
4 days ago
Latest comments on Stock Reversals's Articles