Thomas H. Kee Jr., is President and CEO of Stock Traders Daily. The Stock of the Week Strategy offered by Stock Traders Daily may be the best performing strategy on the market since December, 2007 (before the credit crisis), and "The Investment Rate" is arguably the best measure of the underlying economy available anywhere (it is a macroeconomic work). Our reports and analysis are currently offered by Reuters Research to their institutional clients. Economic analysis and forecasting is provided to a variety of institutional and retail clientele through Stock Traders Daily's corporate website. Mr. Kee had worked with Smith Barney, AG Edwards, and Morgan Stanley before founding Stock Traders Daily in January
...
More
2000. Stock Traders daily thrived during the Internet Debacle. (http://stocktradersdaily.com/)
Description: Registered Investment Advisor (RIA). Trading frequency: Daily
Interests: ETFs, Mutual funds, Retirement savings, Stocks - long, Stocks - short, Tech stocks

Stock Traders Daily
We offer tools that help investors manage their risk and realize opportunities regardless of market direction or economic conditions, and without sacrificing time or lifestyle.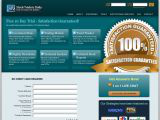 Stock Traders Daily
A complete understanding of the macroeconomic conditions that exist in the current marje environment plus an observation of actual market and economic cycles, combined to present a model of market analysis that is second to none. Our specialty is identifying piviot points.

Buy and Hold is Dead
Buy and Hold Is Dead Take control of your financial life! "Losing less" is never the goal of solid investing over time, regardless of the overall market conditions. This timely guide offers a step-by-step educational process by which traders and investors learn how they can protect their wealth and
...
More
Latest comments on Stock Traders Daily's Articles