stockpucker
x
Author Following Options:
See their articles on your Seeking Alpha homepage and in your feed.
Real-time alerts on this author
Get their new articles emailed to you as they are published.
Daily digest on all my authors
Get all your favorite authors' new articles emailed to you in one daily digest.
Send Message
Affinity for activist campaigns and targeted stocks.
Description: Registered Investment Advisor (RIA).
Interests: Stocks - long, Stocks - short, Tech stocks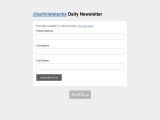 stockpucker
Connoisseur of the untold stories on Wall Street, skewed toward activist investing.
Currently, you have no book details. Click edit to add book details.
Latest comments on stockpucker's Articles
Latest Articles on Fund Holdings