Jordan S. Terry is the Founder & Managing Director of Stone Street Advisors LLC. He has a BS in finance with minor coursework in engineering & entrepreneurship from Penn State, and an MBA from NYU Stern School of Business with concentrations in corporate finance and business law. He has work experience in corporate development, investment banking, operations, and investment research. His investing/analysis experience spans more than 10 years across virtually all industries and sectors. He has written about business, technology, innovation, policy and finance (both theory and practice) as well as industry- and firm-specific analysis since 2005.
In 2011, Jordan founded Stone Street Advisors LLC, an
...
More
investment research and consulting firm catering to investment funds and corporations. Stone Street's track record of picking both long and short ideas has significantly outperformed the S&P500 on both a absolute and relative basis (detailed information available upon request).

He has written fairly extensively for The Atlantic, Forbes (where he has a column, "Fundamentally Speaking"), Zerohedge, Business Insider and other popular outlets, and his work has been highlighted by FT, WSJ, CNBC, NYT, The Globe & Mail, The Deal, and virtually every other major financial media outlet.
Description: Sell Side Research Analyst/Trader.
Interests: Developed International Markets, Emerging Markets, Options, Stocks - long, Stocks - short, Tech stocks
Stone Street Advisors LLC
Stone Street Advisors LLC provides hedge funds, family offices, institutional investors, and HNW individuals with fundamental research and analysis as well as various investment consulting services. We develop our own ideas (global equity long/short, value, deep value, special situations) and also do
...
More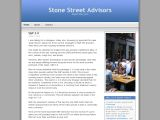 Stone Street Advisors
The blog is where Jordan and the rest of the Stone Street Advisors team shares their research/analysis with the Public (when we can), as well as commentary on other business/finance/economic/policy issues/cultural/societal issues.
Currently, you have no book details. Click edit to add book details.
Latest comments on Stone Street Advisors's Articles