I have been investing for over four years and have gone through booms, busts and flat cycles of the market. Yep, decent experience in short duration.
I am an avid student of market and analyze almost all of the trades that I make, especially the ones that go belly up. I have gone through the fundamentals and technicals of most of the successful stocks over last 10 years. The reason is – History Repeats.
The style of portfolio management is in lines with Peter Lynch's .i.e.maverick. I buy growth stocks on breakout, value stock on support and short if I see profit. The idea is to be on the right side of the trade. Once bought I can hold a stock for months. Yes, I am not a day trader – may be swing or may
...
More
be a position trader.

The objective of this website is to track all the trades that I make and provide day to day commentary on markets.

Please feel free to invest with me. One last thing – please leave your emotions in the adjacent room. The premise of my investment is based on rules because if you fall in love with a stock or if you hope for rebound then no one can stop you from being your own nemesis.

Welcome to my trading room!
Description: Independent trader. Trading frequency: Weekly
Interests: Commodities, Developed International Markets, Dividend stock ideas & income, ETFs, Energy stocks, Gold, Mutual funds, Stocks - long, Stocks - short, Tech stocks
Currently, you have no company profile. Click edit to add a company profile.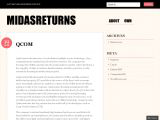 midas returns
The blog is to elucidate reasons for purchasing a stock or to explain why a stock might be of interest.
Currently, you have no book details. Click edit to add book details.
Latest comments on Sumeet Vatsa's Articles