SurlyTrader is a portfolio manager at a large financial institution who specializes in trading derivatives. He has been in the financial services industry for over a decade and would like to share his experience and enthusiasm in the financial markets with those who have a natural curiosity and passion to learn.
He completed a BS in Computer Engineering with Mathematics minor, and a MBA in Finance. He is also a CFA Charterholder and Global Association of Risk Professionals Financial Risk Manager (FRM).
Description: Mutual Fund Manager. Trading frequency: Daily
Interests: Bonds, Dividend stock ideas & income, ETFs, Forex, Options, Stocks - long, Stocks - short
Currently, you have no company profile. Click edit to add a company profile.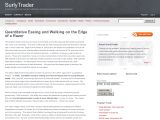 SurlyTrader
Trading can be stressful, but playing a rigged game is worse. SurlyTrader will explore the hidden game of financial institutions and the government that supports them while providing useful tips on trading strategies, hedging and personal finance.

Understanding Financial Engineering
The book bridges the gap between mathematical theory and practice with a focus on educating investors on how to use, value, and monitor derivative positions. The book covers calculating present value of cashflows, futures, swaps, options, credit-default swaps, exotic options, CDO's, Binomial tree valuations,
...
More
Latest comments on Surly Trader's Articles
LATEST ARTICLES & INSTAPOSTS
more »