Tales From The Future. I picked my nickname because many advisors and investors claim they can predict the future of the (stock) markets and somehow pick the winners. I don't.
I usually do not engage in short-term trading and myopic analysis (quarter by quarter, without looking at the big picture). I like to work with long-term scenarios with a focus on possible disruptions in the technology and energy sectors.
I look into value and contrarian ideas as well as emerging technologies and growth stocks worldwide, both on the long and short side.
I also like to discuss the influence of monetary policy on global stock markets.
I am fiercely independent in my investment research and
...
More
therefore use the image of a lone Ninja. This influenced my investment principles for the past 20+ years:

Pick your targets with patience. Do your OWN diligence. Never follow the herd blindly:

'Men, it has been well said, think in herds; it will be seen that they go mad in herds, while they only recover their senses slowly, and one by one.'

General Sector Focus: Technology/Internet, Value, Disruptors, Energy/Alt Energy, Entertainment Stocks and Monetary Policy/Geopolitics.

Geographical Focus: USA, Western Europe, Japan.

Sector 'Halo' Focus Stocks: AAPL, TSLA...

PS: Not a native English speaker. I apologize in advance for any typos and grammatical errors.
Description: Investment Consultant. Trading frequency: Infrequent
Interests: Developed International Markets, ETFs, Emerging Markets, Energy stocks, Gold, Stocks - long, Stocks - short, Tech stocks
Currently, you have no company profile. Click edit to add a company profile.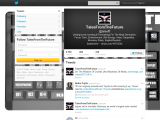 Tales From The Future (Raw Feed)
This is my Twitter feed with a few articles and samples from among the many sources I read day in and day out. These are reading picks that are worth sharing in my opinion. Sector Focus: Technology/Internet, Entertainment, (Alternative) Energy, Value, Disruptors, Geopolitics, Monetary Policy.
Currently, you have no book details. Click edit to add book details.
Latest comments on Tales From The Future's Articles