My name is Mike McNeil and I'm the author of The Dividend Guy Blog along with the owner and portfolio manager over at Dividend Stocks Rock. I earned my bachelor degree in finance-marketing, own a CFP title along with an MBA in financial services. Besides being a passionate investor, I'm also happily married with three beautiful children.
I started my online venture to educate people about investing and to be able to spend more time with my family.
I used to struggle with the same issues millions of small investors deal with on a daily basis. Which stocks to buy? When to sell them? How to find the time to manage my portfolio? How to diversify? I wasn't into dividend investing until I looked in depth at
...
More
my portfolio returns and realized I was having difficulty keeping up with the market.

The root of the problem was a very poorly built portfolio that lacked structure and the components required to build a sturdy base. I made good money from the stock market but I was taking unnecessary risk to achieve my investing goals.

From that point on, I was determined to create a portfolio strategy that would allow me to benefit from dividend growth stocks as a solid foundation. Since then, I manage my portfolio with a stress free method that enables me to cash out dividend payments even when the market goes sour.
Description: Certified Financial Planner (CFP). Trading frequency: Monthly
Interests: Dividend stock ideas & income
Dividend Stocks Rock
Dividend Stocks Rock (DSR) follows the same dividend growth model I use to manage my own portfolio. I didn't come up with these investing rules out of the blue. Each rule has been written after these four years of trading dividend stocks, reading through many financial research publications and listening to
...
More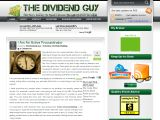 The Dividend Guy
I'm glad you've stopped by; I'm Mike aka The Dividend Guy. I'm the guy behind this blog since 2010. But wait… this blog has been around since 2005… Yup, I like dividend investing so much that I bought another's guy's blog to continue his work in teaching and helping investors buy dividend stocks and manage
...
More

Dividend Growth
This book has been written for The Dividend Guy Blog readers in the first place. I author The Dividend Guy Blog, a well known dividend investing blog, since 2010. When I asked my readers what were their investing issues, they answered by raising 3 Major Concerns: #1 Invest In Foreign Stocks Without
...
More
Latest comments on The Dividend Guy's Articles