Corporate Solutions
Whether you are a large or small firm, GeoInvesting will cater to your needs and create a sound process for corporate diligence. Our specialty is Portfolio Protection – in fact, every aspect of what we do boils down to various ways that your M&A process or investment portfolio can be safeguarded against red flags.
To accomplish this we choose to work closely with you so you can be kept abreast of the progress of our due diligence from start to finish, making sure that we cultivate a relationship of trust between our team and yours.
Who Can We Help Specifically?
We actually do not limit ourselves to any specific group? We have worked at great lengths with:
...
More

>Portfolio Managers

>High Net Worth Investors

>Accounting Firms

>Lawyers

>Board Members

>Private & Public M&A

>Other Due Diligence Firms

There is really no one that we can't work with since we've covered just about every facet of the due diligence process, whether it be on-the-ground or "through the files." We can even tailor our services to your specific requirements.

Retails Solutions

We have a retail solution for everyone – the long investor, the short investor, the pump and dump investor and the every day trader that is interested in the micro cap arena. We've shown that we can overcome the challenges posed by any market environment, quickly seizing investment and trading opportunities as they arise. Because of this, our Premium members have been able to enjoy above-average returns on our ideas. Our solutions enable us to cater to what matters to you the most.

Do you want access to reports that can convey the proper valuation of equities, reports that can immediately convince the market that these valuations are warranted? Do you want information arbitrage that allows you to be among the first to take action based on the intel? Do you need daily ideas, some of which have proven to be some of the most rewarding calls to action that the GeoTeam has offered? Would you like to follow our GeoBargains and select trades? Or do you just need to be part of an exclusive twitter following that receives alerts before the rest of the market?

If you have answered yes to any of the questions above, then don't wait any longer. Join our Network and see why our following continues to grow on a daily basis. The faster you join, the more likely you will be among the first to harness the power of our offering.

Sign up today and start to get:

>Premium Reports

>Actionable Alerts

>Hot Screens

>Exclusive Research

>Daily Trading Ideas

>GeoTeam Positions

http://geoinvesting.com

http://portal.geoinvesting.com/SignUp/SelectSubscription.aspx
Description: Hedge Fund Manager. Trading frequency: Daily
Interests: ETFs, Options, Stocks - long, Stocks - short

GeoInvesting, LLC
At GEO, our focus is on providing high quality insights equities both in the China and U.S. spaces, with a particular expertise in the micro cap arena. Since our inception, we have come to be known by our GeoBargain selections, a group of stocks with a specific set of criteria that has proven to help them
...
More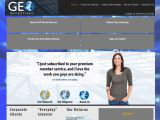 GeoInvesting
We help our Premium Members navigate investment risk by interviewing company management, dissecting conference calls, interacting with our wide network of savvy investors and scouring SEC documents for hidden clues.Too often investors focus on returns and ignore the risk element of the wealth creation
...
More
Currently, you have no book details. Click edit to add book details.
See why we believe our latest microcap pick has 50% upside. We'd like to share it with you for free.
http://bit.ly/1Owdf6t
Sep 24, 2015
Latest comments on The GeoTeam's Articles