Andreas Schreyer, Founder and Editor of The Green Investor and the Investoblog, is a longtime investor and student of the markets and has been a financial newsletter editor since 2003. He continues as a partner at Fraser Partners and at MarketTrend Advisors, a full service investment advisory firm.
In addition to his investment background, Andreas has over 30 years of experience in the high tech industry, including electronics, computer and software. His career began in engineering (he has a degree in Electrical Engineering from Ecole Technique Superieure, Geneva, Switzerland). After some years in design engineering he moved to the product management and strategic planning disciplines, with positions of
...
More
increasing responsibility for Fortune 500 corporations such as Motorola and Tandem Computers (later part of Compaq and now of Hewlett Packard). Andreas also served in executive management positions at a number of start-up companies such as Internet Dynamics and Globeset before moving to the financial investment newsletter sector.
Description: Independent / boutique research firm analyst. Trading frequency: Monthly
Interests: ETFs, Energy stocks, Forex, Stocks - long, Tech stocks

The Green Investor
The Green Investor is a subscription-based investment newsletter dedicated solely to identifying the very best green investment opportunities for our members. We are researchers, analysts and investors. We have a fundamental belief that investors make better decisions when they are informed. We seek an
...
More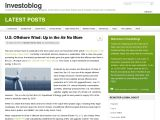 Investoblog
The markets discussed include U.S. and global stock markets, specialized sectors such as energy and resources, green investing, precious metals, currencies, interest rates high-yield bonds and others.
Currently, you have no book details. Click edit to add book details.
Latest comments on The Green Investor's Articles