Tom Feeney began his work in the investment industry in 1969. Clients have included cities, states and major corporations, as well as numerous religious, charitable and other not-for-profit organizations.
In his early career Tom served as Executive Director of Stewardship Services, Inc., Washington, D.C., and as a Senior Vice President of Atalanta/Sosnoff Capital Corporation, New York. He established Thomas J. Feeney & Co., a financial consultant to tax-exempt organizations, in 1978. Feeney & Co. initiated investment management services in late 1985, and Marathon Asset Management Co., Mission's predecessor, was incorporated in early 1987 to separate those investment management services from Feeney &
...
More
Co.'s consulting work. Tom served as Marathon's Chief Investment Officer since the firm's inception. In 1997 Tom assumed the roles of Managing Director and Chief Investment Officer of Mission Management & Trust Co., located in Tucson, Arizona.

Prior to his investment career, Tom served on the faculties of the University of Santa Clara, St. Joseph's College and Guadalupe College, all in California. In more recent years, he has lectured on investments at the University of Notre Dame and Georgetown University. His own academic background includes a B.A. in economics from Boston College, an M.B.A. from the University of Santa Clara, studies at the Stanford Law School and additional post-graduate work at the University of San Francisco.

Over the years Tom has been interviewed on CNBC and frequently on local business TV shows. Similarly he has been interviewed and written about by such national publications as The Wall Street Journal, Barron's and Investor's Business Daily as well as local papers throughout the country.

Away from his desk, Tom enjoys his all too infrequent time on the golf course. In earlier years he ran two dozen marathons or ultra-marathons including the Boston Marathon and the New York City Marathon three times each. The highlight of his competitive career was winning a relatively small field marathon in Carpinteria, California.
Description: CIO.
Interests: Bonds, Dividend stock ideas & income, Retirement savings, Stocks - long

Mission Management & Trust Co.
Established in 1994, Mission Management & Trust Co. is an independent trust company licensed, regulated, and examined by the Arizona Department of Financial Institutions. Mission was founded with a three-pronged set of objectives: -lead the field as a top quality trust company -promote increase opportunities
...
More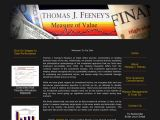 Measure of Value
Thomas J. Feeney's Measure of Value offers periodic commentary on leading financial issues of the day. Additionally, we present occasional articles explaining the philosophical underpinnings of the investment approach that our firms have employed successfully since 1986. Our thinking frequently differs from
...
More
Currently, you have no book details. Click edit to add book details.
Latest comments on Thomas J. Feeney's Articles