Invest. Manage risk. Communicate. Educate yourself. Make profits. .
Visit http://dividendlab.com
Hello,
My name is Todd Johnson. I'm a family man, sports fiend, health nut, technology buff, long-time stock investor, and a very lucky mountain climber, all of which has shaped my philosophy as a professional investor for the last 30 years. As my interests might suggest, I am always looking for the upside while striving to minimize risks.
My new passion, which I have realized through DividendLab.com project, is helping other investors learn more about investing; investing in stocks and other assets that are subject to wide price swings can actually enhance their returns when the right
...
More
investment strategy is applied. To that end, I read company 10k and 10q statements so they can skip them. I compile and analyze the market research that isn't always at their fingertips. And I don't make any investment recommendation without committing my own funds first, which is the purest form of accountability.
Description: Full-time Investor. Trading frequency: Weekly
Interests: Bonds, Commodities, Dividend stock ideas & income, Forex, Gold, Options, REITs, Retirement savings, Stocks - long, Stocks - short, Tech stocks

Todd Johnson - DividendLab.com
DividendLab is where theory and practice converge to create actionable, alternative investment strategies focused exclusively on achieving positive absolute returns over a period of time. By applying time-tested, value-investing principles with proven risk management techniques, the DividendLab portfolio
...
More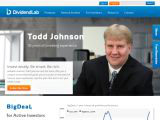 DividendLab
The DividendLab website was created for a broad investor public. We provide an investment information service and make business recommendations. Our site has an investment forum for investors of all kinds to ask and answer questions. We also disseminate information to our subscribers in a newsletter and
...
More
Currently, you have no book details. Click edit to add book details.
Latest comments on Todd Johnson's Articles