I'm a well-informed retail investor and post on SA in order to expose my thought process to critical examination and comment from readers. It makes me a better investor.
I'm particularly proud of bullish macro articles posted in 2009 and later, in which I presented ideas that encouraged me to invest very profitably in a rising market. I also did articles on individual stocks, many of which contained insights not available elsewhere. Finally, I wrote a number of thoughtful articles critical of financialism and the lack of ethics on Wall Street.
I do not post for compensation, as I am concerned that editorial policy encourages and pays a premium for articles that invite the reader to speculate on the
...
More
short term movements of microcaps, penny stocks, and controversial issues. The best way for me to monetize my insights is to invest accordingly.

As a retail investor, I don't give investment advice. I write about what I'm investing in, and the thought process involved in decision making and stock selection. Hopefully some of what I write is of benefit to others, by sharing my experience as I interpret it and helping them improve their investment thinking and process.
Description: Retiree. Trading frequency: Weekly
Interests: Dividend stock ideas & income, Options, Stocks - long, Stocks - short
Currently, you have no company profile. Click edit to add a company profile.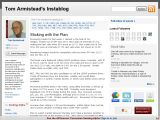 Tom Armistead's Instablog
Contains informal material on my day to day investments and thoughts on current economic and financial news. What I'm buying and selling, what I'm thinking about, etc. Material on value stocks, speculative situations, options strategies, portfolio structure, risk management. Also contains articles
...
More
Currently, you have no book details. Click edit to add book details.
$
CRC
reveals they have received a 24 month modification of their term loan and revolver. This reduces potential financial stress.
Mar 24, 2015
Latest comments on Tom Armistead's Articles