Tom Konrad, PhD., CFA is a financial analyst, freelance writer, and portfolio manager specializing in renewable energy and energy efficiency. He manages portfolios for individuals and institutions and is head of research for a green hedge fund, the Green Economy Fund at JPS Global Investments, and co-manages a green, income-focused, fossil fuel free strategy with Green Alpha Advisors. He is Editor at AltEnergyStocks.com.
Tom lives in New York's lower Hudson River Valley. He volunteers for the environmental nonprofit community, runs, and is a woodworker. He's currently using those woodworking skills to renovate (and upgrade the energy performance) of the 1930 farmhouse he lives in with his wife.
He can
...
More
be reached at tom at tom konrad dot com.
Description: Hedge Fund Director of Research. Trading frequency: Weekly
Interests: Dividend stock ideas & income, Energy stocks, Options, Stocks - long, Stocks - short

Ph. Number:

303 993 7856
Location:

CO; USA
Green Alpha Global Enhanced Equity Income Fund
An actively managed fossil fuel free portfolio designed to produce a high level of current income. Comprised of global equities invested in economically efficient infrastructure and other businesses with current yields in excess of the 10-year U.S. Treasury bond. Income is further enhanced and risk reduced
...
More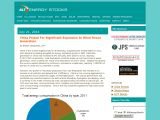 Alt Energy Stocks
AltEnergyStocks.com provides high-quality, original research into alternative energy, renewable energy, and clean technology companies.
Latest comments on Tom Konrad, CFA's Articles