I share my experiences (good and bad) in trading stocks and results of thousands of trading simulations in my books. My primary book is The Art of Investing.
ebtonypow.blogspot.com
Retired early from IT and work full-time in investing. Develop strategies to trade. It is my passion to check out why some strategies work and why some only work in certain market conditions.
Description: Full-time Investor. Trading frequency: Weekly
Interests: Stocks - long, Stocks - short
Tony Pow
Available for consutling in investing.
Purpose of the blog.
This blog is used to take the readers of my books, Debunk the Myths in Investing and Scoring Stocks, to practical, real-life examples.
You can obtain a copy of these books from.
http://ebtonypow.blogspot.com
...
More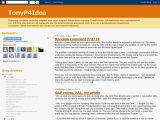 The Art of Investing
The Art of Investing covers most topics in investing. The Kindle version is over 720 pages (6*9), about the size of three regular books. Pow PE gives you better prediction of the stock price by considering its debt and cash. The simple market timing technique predicted the last two market plunges with ample
...
More
Latest comments on Tony Pow's Articles
LATEST ARTICLES & INSTAPOSTS
more »