I have been trading max pain type data since 2007 after noting odd trading patterns centered around options expiry. I am a more conservative trader/investor and only take high probability trades. I prefer to know where stocks won't be rather than guess where they will be. Trading with this mind set gives you 80% plus probability of being correct.
I have always been a stock market enthusiast. My formal training is that of informal. I am self taught, soaking up as much knowledge as can be absorbed. I love the financial industry and would work for free. I am a fundamental investor at heart and like crunching the numbers. I picked up on Max Pain theory and use option data as a main thesis in taking my positions.
...
More


In the beginning; when studying Max Pain I was truly amazed at the power it had in pulling or pushing AAPL around. I have seen the stock drop 5% out of nowhere with no news. The only news would be it was the 3rd Friday of the month. I then picked up on hitting the Max Pain strike was about 50/50 odds. Max Pain would give you a tell on what direction AAPL would start heading for expiry. I started to build a strategy from my studies. Using the Max Pain strike is not really tradable, good to know, but not tradable. So I started to study open interest (OI) and its affect on AAPL. Long story short, I have altered the original Max Pain theory and morphed it into what my own studies have concluded. I call this OI/Max Pain, it uses open interest and a range. This way it is tradable as I now have a high probability range. It doesn't stop there, using OI will tell you so much more. How a stock reacts at each strike depending on the amount of OI is a major tell.

Conclusion: When using open interest you can accomplish multiple things. We can use it for OI/Max Pain when AAPL is stuck in a range and we can use it for catching breakouts, breakdowns, buy and sell points. Enjoy.

I want to give a special thanks to some of my early influences: Turley Muller, Andy Zaky and Jason Schwarz. I thank Philip Elmer-Dewitt for his coverage on AAPL and letting us have a voice, Horace Dediu for his tireless studies and anyone attached to the AAPL community.
Description: Full-time Investor. Trading frequency: Weekly
Interests: Options
Currently, you have no company profile. Click edit to add a company profile.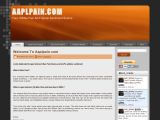 Aapl Pain
This site was designed to provide the statistical data on Aapl option open interest and why Aapl trades the way it does.
Currently, you have no book details. Click edit to add book details.
Latest comments on Travis Lewis's Articles