Vance Harwood is a private investor and consultant whose interests include macroeconomic forecasting, investor psychology, and volatility as an asset class. His investment activities include trading index ETFs, volatility related ETPs and their associated options. He blogs at sixfigureinvesting.com—mostly about volatility, but occasionally about options strategies, bond funds, and general market topics. He tracks the USA based volatility ETPs and has simulated the performance of most of them back to the initiation of VIX Futures in 2004.
A couple things Vance believes:
The past does not predict the future (see Nassim Taleb's "Fooled by Randomness"). This invalidates much technical analysis–although I
...
More
think the psychology of stock movements is very important

Past behavior of assets relative to each other (e.g., bonds vs stocks) does not guarantee future behavior

Markets fall a lot faster than they go up, typically at least 2X

"Buy and hold" ensures that you will experience the worst days as well as the best days of the market

Investing in individual stocks carries many more unknowns than aggregates like index ETFs (e.g., earnings surprises, analyst's ratings)
Description: Investment Consultant. Trading frequency: Weekly
Interests: Bonds, Dividend stock ideas & income, ETFs, Options, Retirement savings, Stocks - long, Stocks - short, Tech stocks

Ph. Number:

970-481-7426
Email:
Location:

Colorado; USA
Six Figure Investing
My areas of expertise include Investment analysis and modeling:
- Analyzing/backtesting/ simulating financial strategies
- Manipulating large data sets
- Monte-Carlo simulations
- Volatility as an asset class
- Business analysis and modeling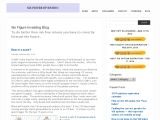 Six Figure Investing
Over the last 15 years the "buy and hold" strategy has not done well. Overall averages are near what they were 10 years ago. Asset classes (e.g., stocks, bonds, commodities) seem to be traveling in unison rather than offsetting each other. Brokers want you to diversify — and what you end up with very mediocre
...
More
Currently, you have no book details. Click edit to add book details.
Latest comments on Vance Harwood's Articles