Retired Financial Analyst with an investment plan derived from Charles D, Ellis' book "Winning The Loser's Game". My "Winning Formula" is basically a three-bucket approach with a non-discretionary spending bucket, a discretionary spending bucket and a long-term investment bucket. My non-discretionary spending bucket holds one year of either cash or anticipated dividend and interest income. My Discretionary Bucket is funded by occasional sales of 25% of my future capital gains at portfolio highs, which are then held in either cash and/or a short-duration bond fund (SCHP/SCHZ). My long term investments are invested in a low-cost broad market index ETF (SCHB) with a 0.04% expense ratio. The plan will
...
More
typically hold more than 90% of assets in the broad market index ETF.

My plan is also consistent with John Bogle's advice to invest with the broadest possible diversification, sustained over the longest possible time horizon, operated at the lowest possible cost, with optimal tax efficiency, thereby assuring the highest possible share of whatever investment returns our financial markets are generous enough to provide.

My plan also is consistent with Warren Buffett's 90/10 SPY/CASH estate plan recommendation.

My plan is documented in my instablog posts for those wanting more detail.
Description: Retiree.
Interests: Dividend stock ideas & income, Retirement savings, Stocks - long
Currently, you have no company profile. Click edit to add a company profile.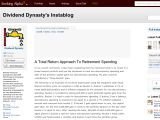 Winning Formula's Instablog
My Seeking Alpha articles, instablog and comment stream documents my path to developing my "Winning Formula" for funding my retirement spending. The path has gone from a broadly diversified portfolio, to 100% equity indexing, to dividend growth investing, and now back to nearly 100% equity indexing with a
...
More
Latest comments on Winning Formula's Articles