I share my portfolio, trades, and reasoning in real time with readers at my website: http://WisdomsReward.com (specifically look for the tab that says Value Focus)
My name is Chris McKinney. Wisdom's Reward is the name of a Christian investing website I started. My faith in Jesus Christ factors into my investing in various ways. The name "Wisdom's Reward" was suggested by a friend and comes from the fact that I started on the whole venture by studying Ecclesiastes and Proverbs (both are books of Wisdom) regarding what they had to say specifically about investing and finances, as well as other principles that could be applied to investing. In fact, there is a detailed report about that study available
...
More
at my site.

My background: I used to work in the investment management industry, as a buy side Equity Trader, a Research Analyst, then a Senior Research Analyst in the Wealth Management group of a large commercial bank. Later, I worked as a Senior Investment Risk Analyst for an insurance company, as part of a team charged with managing that company's $60 billion portfolio. I had a great career going. Then my personal life got out of control, before I finally decided to surrender everything to a loving savior. He rescued me from myself, and my life is better today than I could have ever imagined it being. You can read more about that on my website.

My investment philosophy: Human beings cannot see the future, so we have to think in terms of probabilities, not certainties. Then we must examine the potential rewards under different scenarios to decide if something is attractively priced. It's easy to forget that we cannot see the future clearly. The more we study a particular topic, the more we can become convinced of a specific outcome. However, neither the future nor the market knows or cares how much study we put into something. We can increase our chances of getting things right. But, if we're wrong, the high probabilities we assigned to a certain scenario won't matter. All that will matter is what actually happened. So, risk management is incredibly important.

I've had lots of formal training and study. I believe the Mr. Market analogy used by Graham and Buffett to be the most important secular material I've ever read in regard to investments. Reading about cognitive biases and other mental errors, and then using that knowledge to guard against those things is also very important. Behavioral finance is probably the most useful area of study produced by scholars.
Description: Newsletter Author.
Interests: Stocks - long
WisdomsReward.com
WisdomsReward.com is a Christian investing website. I share my trades and portfolio with readers via the Value Focus newsletter, which is freely available to all at the website. Come check it out!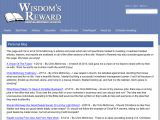 Currently, you have no book details. Click edit to add book details.
Latest comments on Wisdom's Reward's Articles