Background - Last time I recommended this trade, it did not work out. This time we have a failed break of USDJPY under the May 2012 lows.
Fundamental view - The US federal reserve has recently announced a fresh round of quantitative easing. As a result, risk assets have moved higher. Yen, a traditional safe haven is weak across the board.
Technical View - USDJPY has failed to maintain the break below the May 2012 lows. This has been followed by a bullish reversal and the 50 day moving average has been taken out without any hesitation.
static.cdn-seekingalpha.com/uploads/2012/9/18/1004836-13479444508411312-Basis-Point_origin.png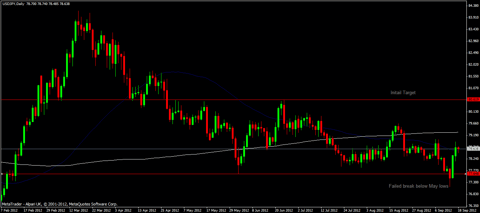 As ever, the intraday chart is more revealing. The 15 min chart below shows a big spike down and complete reversal after the announcement of QE by the fed. Since then USDJPY is in a steady uptrend.
static.cdn-seekingalpha.com/uploads/2012/9/18/1004836-13479446183729167-Basis-Point_origin.png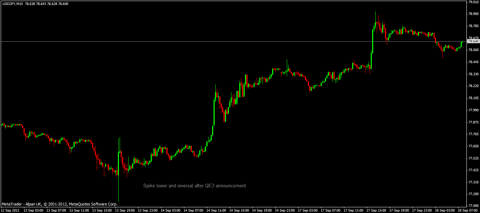 This gives a low risk entry to get long USDJPY with an initial target of 80.6 yen.
Disclosure: I have no positions in any stocks mentioned, and no plans to initiate any positions within the next 72 hours.
Additional disclosure: I am long USDJPY.