Since Facebook's S-1 is already out, we can do some math and come up with interesting facts.
For instance, the number of diluted shares will be around 2.395 billion shares. This allows us to calculate the following market capitalizations, given the price where Facebook trades at: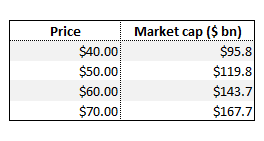 And the price for a $100 billion market capitalization? $41.75. Which would also be our best guess for the level at which the IPO will price. But obviously it will trade much higher once trading begins.
Now, we also get to know how many shares Mark Zuckerberg has, including his stock options. The number is 0.5338 billion shares.
And thus, this is how wealthy Mark Zuckerberg will be and his position on the Forbes list of billionaires: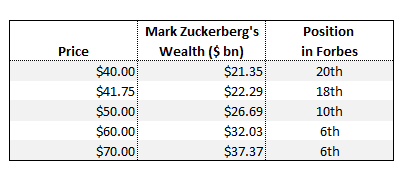 Not bad for 6 years' worth of work, I must say! At any rate, Mark Zuckerberg will be wealthier than Google's (NASDAQ:GOOG) Larry Page and Sergey Brin, which tie for 24th in Forbe's list. But he won't menace Oracle's (NASDAQ:ORCL) Larry Ellison over in 5th, and much less Microsoft's (NASDAQ:MSFT) Bill Gates in 2nd. Not, that is, unless Facebook really surprises and goes up more than 67% from a $100 billion initial valuation.
Disclosure: I have no positions in any stocks mentioned, and no plans to initiate any positions within the next 72 hours.