By now everyone has heard about this year's severe drought, that's hitting corn (NYSEARCA:CORN) crops left and right in the Midwest. Yesterday, again, USDA lowered its estimate of the condition of the present corn crop.
Responding to the widely anticipated news, corn shoot up again, taking wheat (NYSEARCA:WEAT) along with it, even though the wheat crop is either harvested already (winter crop 80% done) or in good condition (smaller spring crop). Anyway, corn went higher as the crop's prospects continued to worsen.
But is it really necessary for the population to have to pay its food at a higher price? Well, it turns out that it isn't. A single temporary measure could easily cut down the predictable corn shortage. The US Government would just have to open an exception to the ethanol usage mandate, which leads to ethanol consuming around 27% of the entire corn crop.
It simply makes no sense to mandate ethanol usage during years where the country is undergoing a severe drought.
Still, the market is not expecting the Government to have any brains, and as such ethanol is rallying along with corn, wheat and soybeans (source for chart: CME).
(click to enlarge)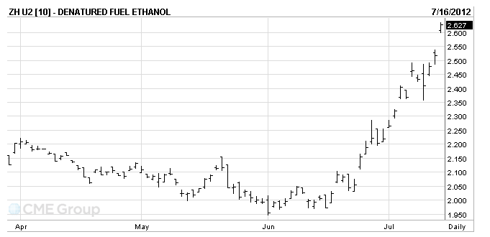 Click to enlarge
Conclusion
The effects of this year's drought could be easily brought under control by a simple governmental measure to ease the ethanol mandate. Will such a measure happen, though? It's doubtful. But one can never fully discount the existence of intelligent life in Washington
Disclosure: I have no positions in any stocks mentioned, and no plans to initiate any positions within the next 72 hours.