One of my fellow Alpha colleagues, Karl Denninger, says:
"The mantra of the last few days is that Research In Motion's (RIMM) stock is un-investable.
Well, it may be, but it is certainly tradable -- and the usual Wall Street "mavens" are up to their old tricks. If you pay attention and are quick, you can make some nice Christmas money playing along with them."
He has gone so far as to use Fibonacci retracement levels to prove his point. But unfortunately, there is a problem with what he said. He used just this month's period as his graph.
Here's a table that might be interesting to the technical analysts:
Period: Last six months

Period: Last one year

Date

Price

Change

%Change

 
 

Price Movement

Fibonacci Levels

8 June, 2012

10.88

 
 

High

18.58

4.68

38.20%

24 Sept., 2012

6.305

-4.575

42.05

18.58 - 6.305 = 12.275

6.14

50%

26 Nov., 2012

11.98

5.675

90

Low

6.305

7.6

61.80%
From June to September, the stock increased to $11.98 on 26th November, 2012 (currently trading at 11.60 at the time of writing this article) from $10.88 on 8th June, 2012. Reaching the lowest peak, being at $6.305 on 24th September, 2012, the stock price crossed all 38.2%, 50.0% and 61.8% to trade around $11.60 now. That was what happened in the last six months.
Now, let's take a look at the previous one year period.
The highest peak was at $18.58 on 1st December, 2011, and the lowest was at $6.305, as mentioned above. If we look at the current price movement and the right hand side of the table, we can say that the stock price has already crossed the 38.2% and is already reaching the 50% resistance limit.
In accordance with that, here's an excerpt from an article:
"Goldman Sachs analysts improved their rating from Neutral to Buy because they said they see a positive risk / reward as we get closer to the launch of the BB10 at the end of January. They said this is the first time in three years that they think Wall Street is too low on its out-year estimates for the stock. Analysts at the firm are estimating a 30 percent chance of success for the BB10 because of attractive features, positive reviews, broad-based carrier support, and consumer interest in looking at phones other than the Android handsets and the iPhone. Goldman Sachs is lifting its 12-month price target to $16 from $9."
There are two concerns here.
Will the price reach the $16 target and/or go beyond?
Will the price sustain at that level?
When it comes to stock prices, it is mostly about market sentiment. And what do you think would the sentiment be like when you hear Blackberry sets blowing up causing fire? That pretty much affects the prospects of Blackberry 10, right?
Yet Goldman Sachs tells you that price is going to go up, people will believe so, and that sets the market momentum already. Not only Goldman Sachs, there are a handful of others that think the same way.
For example, with quarterly earnings looming on the horizon, RIM's target price was raised to $12, upfrom $9.50 at TD Securities as well. As per news, the price has gone down by about 32% during the past year, but that hasn't fazed short-term bulls. The stock's Schaeffer's put/call open interest ratio (SOIR) checks in at 0.60, with calls nearly doubling puts among options scheduled to expire in the next 3 months. This ratio hovers just seven percentage points from an annual low, confirming near-term traders have rarely been more call-heavy (or read it, interested to buy) toward RIM during the last 12 months.
Let's take a look at the following stock chart.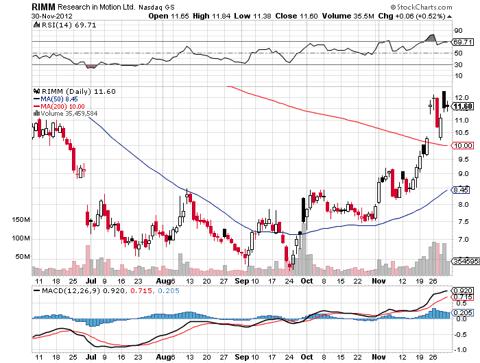 For the last six months, the RSI signal is already confirming the "oversold" status of the stock and interestingly, it is still oversold. Needless to say, with passage of time and some good news here and there, the stock price will probably move up a few notches.
This is already confirmed by RIM's price-to-book ratio of 0.59, compared to Apple's (NASDAQ:AAPL) 4.68, Nokia's (NYSE:NOK) 0.81 and Ericsson's (NASDAQ:ERIC) 1.41. Why did I take price-to-book ratio? It is "the" ratio that has the strongest chances of recovering to at least 1, even in times of liquidation. P/E ratio can be manipulated and gives only a brief snapshot of the present market value of the company.
In the last month of November, if you look at the candlesticks, you will see "mostly higher closes", and even when there's too much selling pressure, it is being followed with dojis. This leads me to believe that when it comes to negative view about the stock, the market is still not decided.
With this in mind, we still have to note that the smartphone has lot of room in it, though Apple seems to dominate it with the upcoming iPhone 5 at the moment.
According to trailing figures, Strategy Analytics said there were over 700 million smartphones on the global market during the third quarter of 2011, but noticed a massive rise to 959 million in the second quarter of 2012. In the current quarter, the research firm believes that number could rise to 1 billion (or 1.038 billion, to be exact). And it would probably be "achieved in less than three years, by 2015."
But if we are to topple Apple from the top spot, we have to have what the champion has, and what makes Apple "app-le"? You got it. The apps.
And here's the good news. Research in Motion has been working hard to get around 70,000 ultra-cool and new-age consumer and enterprise apps ready on the launch date of the device in the end of January or beginning of February next year.
"We have done almost a 180 with the developer community. Historically, we weren't the easiest platform to develop for. Our tools were proprietary, not easy to learn, and we weren't very upfront with developers in terms of the support they needed and the things they needed to look out for," Vishal Bhardwaj, RIM software head, admitted to FierceMobileIT.
"With BlackBerry 10, we have given them hardware upfront. The developer environment is open ... and there are common tools that are not created in any way that would prohibit developers from learning them quickly," Bhardwaj said.
It must also be remembered that BB is what professionals depend on. This is from personal experience that many companies still provide employees with Blackberry's since email and instant messaging is what is required the most, not to mention about the solid battery backup. Not to mention the fact that in a Checkpoint study in January this year, Blackberry ranked second choice of professionals in some of the busiest industrial nations in the world.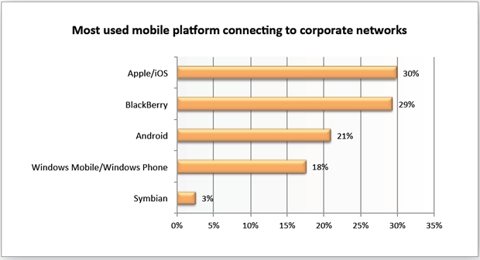 You can probably say that BB is currently the LinkedIn of the smartphone market while iPhones or Android phones are the likes of Facebook (NASDAQ:FB).
As my fellow Alpha colleague says:
"RIM has a loyal base of over 80 million subscribers, with a large chunk of those patiently awaiting an upgrade to the new BB10 OS. This is a point that cannot be discounted. A player like Microsoft (NASDAQ:MSFT)/Nokia entering the segment with the new WP8 has an uphill battle in that it has to steal market share in order to be a relevant player. RIM is already in third position and just needs to build up from there. Remember that RIM was able to add users quarter after quarter without having a competitive phone on the market for the last two years."
And with the upcoming BB10 to enter the market by the end of January, 2013, things can unravel very fast, with BB picking up a few percentages of the smartphone market. Remember, it is only in the third position according to a recent survey.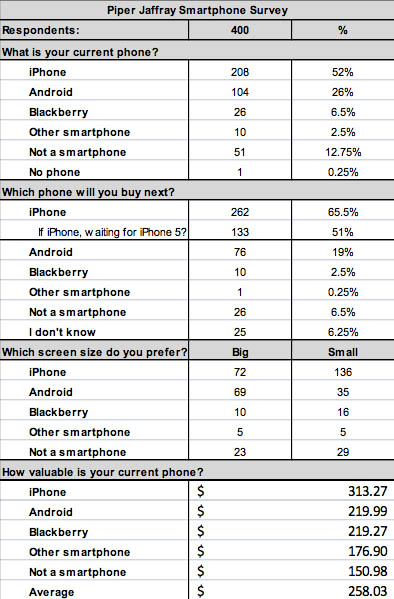 As Piper Jaffray analyst Gene Munster told CNN Money, "Android is still losing 33 per cent of current users to the iPhone." What if that number starts trickling toward BB?
As per MKM revenue model of RIM, the effect of BB10 will start showing around 4QF13, when a target of 8.3 million unit sales at $239 is expected. That alone takes expected revenue to $1.98 billion, without even factoring in the other items in the product mix. The calculated projection of over 33 million unit sales (8.3 million unit sales per quarter) sure makes for an interesting FY2014.

To sum it up, I think it is much better to wait and watch till the 4QFY13 at the moment. Don't discount as long as it counts.
Disclosure: I have no positions in any stocks mentioned, and no plans to initiate any positions within the next 72 hours. I wrote this article myself, and it expresses my own opinions. I am not receiving compensation for it (other than from Seeking Alpha). I have no business relationship with any company whose stock is mentioned in this article.
Additional disclosure: Investing is subject to market risks. Please consult your personal financial adviser before taking any decision.