Is the amount $445 million really that big a loss for a company with market cap of $44.27 billion? Well, it might be if the same company saw $2.2 billion revenue loss in the second quarter this year and $1 billion in the third quarter this year, on YoY basis. Yes, that's pretty much the case with Ford Motor Company (NYSE:F).
Today, Ford was denied $445 million in interest on overpaid corporate income taxes, from 1983 to 1989 and in 1992 and 1994, to the US government. The first lawsuit was filed in 2010, when it was rejected by a federal judge in Detroit. Ford appealed again in the US Court of Appeals in Cincinnati on the basis of IRS revenue procedure. And this was the final judgment:
"We are unwilling to place so much weight upon an interpretive aid that binds neither IRS nor this court," U.S. Circuit Judge Julia Smith Gibbons wrote. The procedure cited "does not even enjoy the status of an agency regulation," she said.
Ford has not yet replied anything to that, but it probably means that it might not be able to take any further actions. Needless to say, you can record the amount as "bad debt write-offs" on the US government!
How big is that loss for Ford? Let's look at the bigger picture. How is Ford performing on the financial front? Here's a quick financial summary of the Q3FY12 results:
(click to enlarge)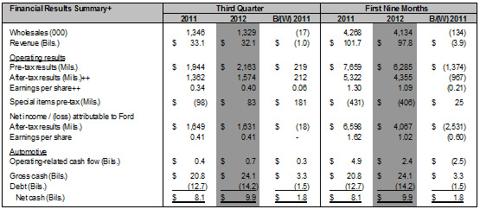 Click to enlarge
Not to mention the declining revenue amount, the EPS of $0.41 is still meager (yet acceptable) at best, up from the $0.26 in Q2FY2012. But one thing to note, things don't look promising from the above chart. Strangely, Ford still continues to boast "strong performance" in each of its financial statements. Is there any specific reason for that?
Let's give a look at the comparative stats:
| | | | | | |
| --- | --- | --- | --- | --- | --- |
| Company | EPS | Price-to-Book Ratio | Total Debt-to-Equity | Return On Average Assets (ROAA) | Operating margin |
| Ford Motor | 4.42 | 2.89 | 662.02 | 11.79 | 5.60 |
| Toyota Motor (NYSE:TM) | 5.65 | 1.08 | 113.79 | 0.56 | 1.91 |
| Daimler(OTCPK:DDAIF) | 6.88 | 1.11 | 156.89 | 4.25 | 7.93 |
| General Motors (NYSE:GM) | 2.66 | 1.40 | 34.97 | 4.30 | 3.78 |
| Volkswagen (OTCPK:VLKAY) | 12.54 | 1.30 | 162.56 | 6.98 | 7.07 |
| Honda Motor (NYSE:HMC) | 2.20 | 1.16 | 93.98 | 1.04 | 2.91 |
| Nissan Motor (OTCPK:NSANY) | 1.92 | 1.06 | 121.56 | 3.46 | 5.55 |
| Tesla Motors (NASDAQ:TSLA) | -3.69 | 16.05 | 125.04 | -46.28 | -123.13 |
Source: Google Finance
Looking at the above chart, the operating margin of 5.6%, EPS of $4.42 and ROAA of 11.79% is still one of the highest in the industry. So even when the numbers on the income statement are going down, they are still better than most in the industry. And regarding the slightly high price-to-book ratio, it's really not that big compared with the other metrics. Perhaps we should put more trust in Alan R. Mulally!
Not to forget, popular analysts' estimate say that Ford's performance can be discouraging in the coming few quarters, but things will probably turn around by the end of 2013.
Revenue Est.

Current Qtr.

Next Qtr.

Current Year

Next Year

12-Dec

13-Mar

12-Dec

13-Dec

Avg. Estimate

32.99B

31.94B

125.00B

130.85B

No. of Analysts

13

10

18

18

Low Estimate

30.95B

30.52B

123.05B

124.61B

High Estimate

34.03B

33.85B

126.13B

134.74B

Year Ago Sales

32.60B

30.52B

128.20B

125.00B

Sales Growth (year/est.)

1.20%

4.60%

-2.50%

4.70%
Source: Yahoo Finance
Conclusion
In the last 3 months, Ford's stock price improved by 10%, but this is not going to stall here as of yet.
It is likely that with the improvement of sales and operating performance of Ford as expected in 2013, the PE ratio might see some boost, which just means that price might rise over time. So if you decide to buy some stocks now, you might be able to rake in some capital gains later.
Having said that, nobody can predict the future, can they?
Disclosure: I have no positions in any stocks mentioned, and no plans to initiate any positions within the next 72 hours. I wrote this article myself, and it expresses my own opinions. I am not receiving compensation for it (other than from Seeking Alpha). I have no business relationship with any company whose stock is mentioned in this article.
Additional disclosure: Equity investing is subject to market risks. Think twice before you act.