The month of May was marked by uncharacteristic strength on the upside which took many investors by surprise. The SPDR S&P 500 ETF (NYSEARCA:SPY) finally broke out of its trading range that I indicated on my latest chart review video. This resolution to the upside was spurred on relatively low volume and in the face of weak economic data. GDP and consumer sentiment indicators came in lower than expected this week, but the market seemed to shrug off the news and is marching higher.
SPY has jumped just over 2% in the month of May and is now sitting on a 4.5% gain for the year. With nearly half the gains for 2014 coming in just the last few weeks, many investors that have been on the sidelines may feel like they have missed out and don't want to chase the new highs up here.
I certainly don't blame them as adding new positions at all-time highs can be difficult in the face of a potential correction. However, making sure that you are disciplined enough to have some exposure on to stay with the trend is always a prudent course of action so that you don't get completely left in the dust.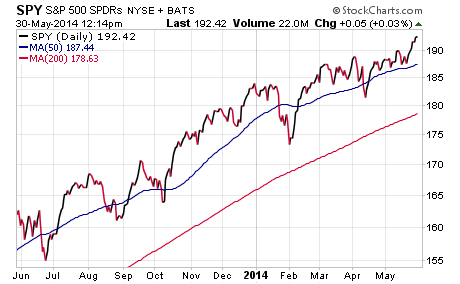 In other news, the bond market has been making waves for ignoring the direction of stocks and continuing to trend higher. Yields on the 10-Year Treasury have now fallen near their lowest levels of 2014 and even a broad based fund like the PIMCO Total Return ETF (NYSEARCA:BOND) was able to post a respectable return of 1.3% in May.
Guess what BOND has returned so far this year? Answer: 4%. Keeping some fixed-income exposure has produced returns nearly on par with the stock market this year and exhibited less volatility. Right now I am continuing to hang on to existing fixed-income and equity positions for clients until we see a change in trend that warrants taking action in defense of our capital.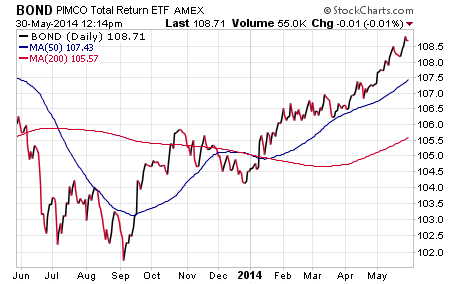 If you are looking for some bad news, take a look at a chart of the SPDR Gold Shares ETF (NYSEARCA:GLD). This has probably been one of the most frustrating trades of the year for precious metals investors.
Unless you have been playing GLD with short-term trades and tight stop losses, this has been an area that has continued to breakdown since the March high. We are avoiding the precious metals sector at the moment because it doesn't exhibit a favorable risk-to-reward setup for our growth clients.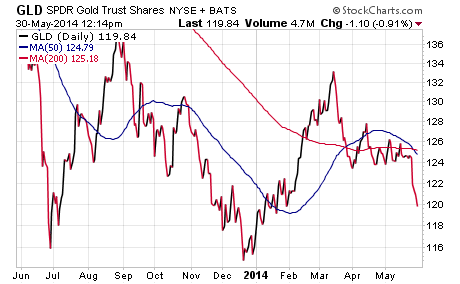 The bottom line is that volatility is low, volume is low, stocks and bonds are soaring, and trying to rationalize it will only make your head hurt.
How long can this insanity last? A lot longer than you can stay solvent.
We are nearing the middle of the year, which typically lends itself to heightened volatility. My advice is to stay balanced and continue to refine your watch list for additional trading opportunities. Patience and discipline will be rewarded as we make our way through the remainder of 2014.
Disclosure: I have no positions in any stocks mentioned, and no plans to initiate any positions within the next 72 hours. I wrote this article myself, and it expresses my own opinions. I am not receiving compensation for it. I have no business relationship with any company whose stock is mentioned in this article.
Additional disclosure: David Fabian, FMD Capital Management, and/or clients may hold positions in the ETFs and mutual funds mentioned above. The commentary does not constitute individualized investment advice. The opinions offered herein are not personalized recommendations to buy, sell, or hold securities.