The equity light is green but look around before you seriously commit!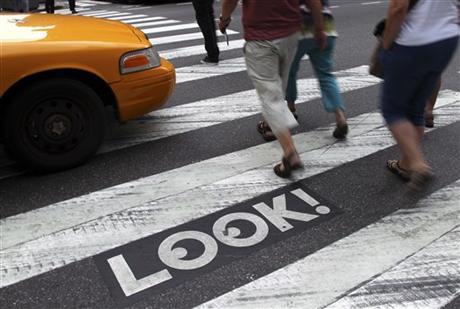 For eight consecutive trading days, the Standard & Poor's 500-stock index has edged higher-always by less than a percent-the longest string of gains since 2004. On Friday, it cleared a new milestone, closing above 1500 for the first time in five years.
And it did so despite the sour performance of poor old Apple as its magical iPhones came up with the wrong numbers. (Barron's)
Earnings exceeded projections at about 76 percent of the 147 companies in the S&P 500 that have released results so far in this reporting season, while 67 percent topped sales estimates, according to data compiled by Bloomberg.
Of the 134 companies that have reported earnings to date for the fourth quarter, 69% have reported earnings above estimates. This percentage is equal to the average of 69% recorded over the past four quarters. The Information Technology (84%) and Materials (80%) sectors have the highest percentages of companies reporting actual earnings above estimates. In terms of revenues, 64% of companies have reported sales above estimates. This percentage is well above the average of 50% recorded over the past four quarters. (Factset)
Equities are rising right in the middle of the earnings season. This focuses the media on the single most important factor in equity valuation: earnings. S&P, the official benchmark, currently sees Q4 operating earnings at $25.18, up 6.1% Y/Y and + 4.9% Q/Q.
Supported by the ample liquidity supplied by central banks, low interest rates, stable inflation and generally encouraging economic data, better than expected earnings, even after their downward revisions of the past months, are driving equity prices higher. This is what happens generally when low valuations get support from rising investor sentiment backed by improving basic fundamentals. Earnings are nowhere from booming, but they are not collapsing as many feared, and the dreaded fiscal cliff is now regarded as a mere bump on the road.
The media have been much jollier recently as the U.S. and China have shown improving economic data while Europe seems to have stopped sinking. Money has started to flow into equities while investment "gurus" and other talking heads become more optimistic. For some strange reason, it has suddenly become in to be bullish. A return to all-time highs after a 125% rise in prices likely triggered this new fashion statement.

(Chart from Ian McAvity)
The fact is that quarterly earnings have peaked in Q2'11, right at the $24.06 peak of Q2'07, and have only been going sideways since: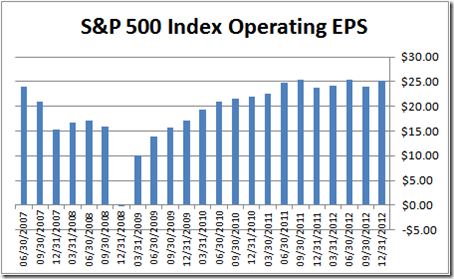 Estimates now call for a break out to $26.25 in Q1'13, rising steadily to $29.72 in Q4. We shall see if that proves optimistic, as it usually does. Here's what Factset said Friday:
Corporations and analysts have begun lowering earnings expectations for Q1 2013. In terms of preannouncements, 28 companies have issued negative EPS guidance for Q1 2013, while just four companies have issued positive EPS guidance.
In mid-2011, when quarterly operating earnings peaked, the S&P 500 Index was in the 1300 range, 15% below its current level. However, U.S. inflation has dropped from 3.5% to 1.7%. Under the Rule of 20, such a decline in inflation warrants a P/E boost of 1.8, from 16.5x to 18.3x, an 11% valuation gain.
Trailing EPS could reach $98.85 when Q4 results are all in, a 2.5% increase over 12 months and only 1.5% ahead of their $97.40 level after Q3. Given inflation at 1.7%, fair P/E is 18.3x for a Rule of 20 fair index level of 1808, 20% above current levels!
When I turned the equity light to green on December 18, 2012, the S&P 500 Index was 25% undervalued based on the Rule of 20 with a technical downside to its 200 day moving average of 3.3%. The fiscal cliff was still looming but the risk/reward ratio was very favorable when many important economic and financial catalysts were improving.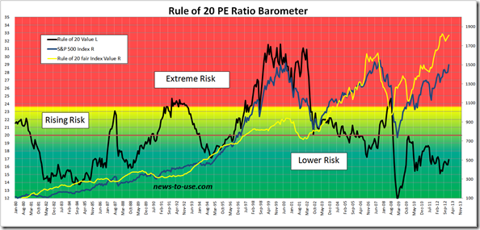 Currently, the upside to fair value is a still very appealing 20% but the technical downside has increased to 6.7% (200 day m.a. at 1400). The risk/reward ratio is still favorable but nevertheless somewhat less comfortable given the state of the economy and the political environment:
The economy is likely to remain sluggish and volatile, preventing a sharp earnings acceleration, especially since margins are elevated. Earnings guidance needs close monitoring.
The effects of the fiscal drags under way are unknown and they could be significant. The U.S. consumer is fragile and it remains to be seen if the so-called wealth effect stemming from rising equity and home prices can offset the harsh reality of a 2.7% hit on take-home pay.
The housing market recovery has finally reached front page status. Yet, diminished disposable income and tough mortgage rules are significant hurdles to a sustained recovery.
While housing (2.7% of GDP) gradually recovers, U.S. exports (14% of GDP) are slowing while signs of currency wars are increasing and widespread. Keep in mind that the U.S. dollar has depreciated nearly 33% against major currencies since 2002, 12% since 2007.
What will happen with the upcoming $1.2B sequester soap opera?
Effective corporate taxes are low and should be normalized somewhat until an eventual (?) tax reform is completed.
The political landscape remains murky at best while the huge fiscal challenge remains. President Obama is clearly on the offensive with his obvious leftist bias.
In 2010 and 2011, U.S. equities rose within 5% and 8% of fair value respectively before retreating under the uncertainties stemming from the Eurozone crisis and the U.S. political mess (look at the McAvity sentiment chart above). The road to fair value is thus not straightforward and far from a slam dunk. Close monitoring of the risk/reward ratio and of high frequency data is paramount at this stage.
One big difference from the 2010 and 2011 episodes is that risk aversion has since essentially disappeared in the fixed income market while increasing on equities, almost the exact opposite as in 2000. This is unsustainable as this National Bank Financialchart shows: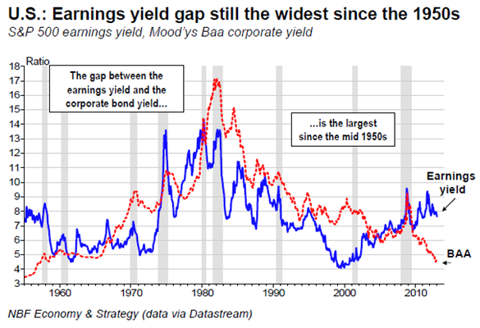 Fashion can lead people into unreasonable behavior. It was so fashionable to be bearish on equities in the late 2000s that most people totally missed the recent extraordinary bull market. Are we entering another period of euphoria where the U.S. becomes investors' darling? After all:
The U.S. economy has become very competitive to the point where we may be into a "manufacturing renaissance".
America is quickly becoming energy self-sufficient, boasting the world's lowest natural gas prices (by a mile) and exploding oil production. Another game changer!
American companies have shown an uncanny ability to boost profit margins even in very difficult economic and financial conditions. Given the manufacturing renaissance and the energy game changer, corporate profits could continue to surprise on the upside.
Institutional and individual investors are so underweighted in equities that we may be at the beginning of the "great rotation" which would create strong demand for equities for many years to come.
Perhaps, but for now, curb your enthusiasm somewhat and remain cool:
Earnings have plateaued and are no longer rising. Let's see how they do in 2013. Keep using trailing earnings.
Inflation has declined sharply to 1.7% Y/Y in spite of all the QEs, super QEs, LTROs and other central bankers' printing tricks. Lower energy costs have been very helpful but core inflation seems stuck at the 2.0% level while the median CPI has been climbing a steady 0.2% per month for the past 6 months.
This means that equity values have little back wind to advance "naturally", unlike 2009-2012 when earnings were sharply rising and inflation declined. Until earnings rise again, equities need investor enthusiasm if undervaluation is to be narrowed, a pretty fickle ingredient if there is one.
Politicians are very apt at moving sentiment and I suspect the next several months will provide them with ample opportunities to spur second thoughts in financial markets.
We must now become fashion watchers.
"Human beings desperately want to belong, but, they also desperately want to understand the environment around them. Often, the desire to belong and the desire to know the truth conflict. The idea of the majority view or the 'mainstream,' gives people the sense that they are a part of a group, and at the same time, gives them the illusion of being informed."
- Brandon Smith (via John Hussman)
The recent Barron's is a good example of crowd teasing:
BARRON'S COVER
The Next Boom Cheap natural gas and increasingly competitive labor costs are bringing factories - and jobs - back to the U.S. Eight ways to win.
BARRON'S ROUNDTABLE
It's Gonna Be Delicious Want a get-rich recipe? Start with our experts' mouthwatering investment bargains in energy, retailing, banking, and more. Up this week: Abby Joseph Cohen, Brian Rogers, Oscar Schafer, and Scott Black.
John Hussman had a good piece this weekend (Capitulation Everywhere), complaining about his lonesomeness in bear country:
(…) The bears are gone, extinct, vanished. Among the ones remaining, many are people whom even I would consider to be either permabears or nut-cases. (…)

And capitulation is everywhere. CNBC ran a story last week "Bears on the Brink: I Can't Fight It Anymore." Even the normally staid Alan Abelson of Barron's finally threw in the towel last week, abandoning his own caution that stocks have run too fast, too far, and suggesting that investors let their profits run "until they start to go the other way. After all, markets rarely fall out of a bed in one fell swoop as they did in 1987 and, more recently, the turn of the century, so there's usually plenty of time to cut and run … we hope." I suspect that Alan is actually gagged in a closet somewhere, and that someone is submitting rogue articles in his absence. Alan, I hope very much for your timely return. (…)
The equity light is green but look around before you commit! Over the shorter term, consider the following charts from Oakshire Financial before you blindly get fashionable. And keep good control of your portfolio beta.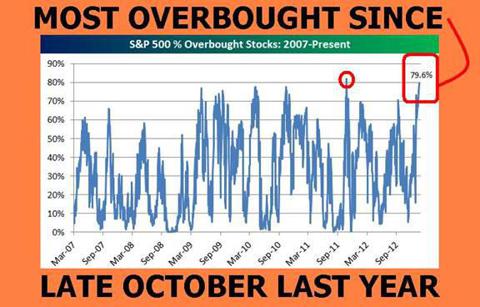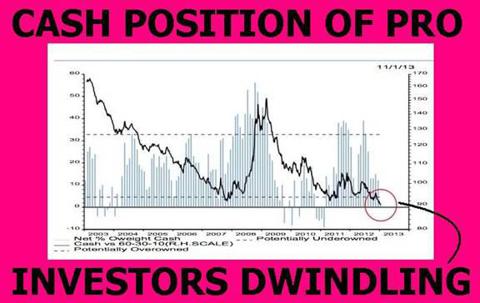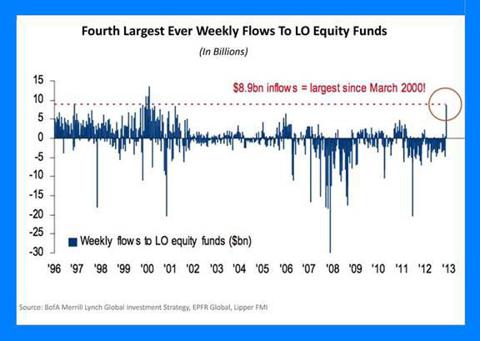 Extraordinary. We just witnessed the biggest net inflow into long only mutual funds since the height of the tech bubble in March 2000, and the fourth largest net inflow in history.