We now have 423 (87%) reports in. S&P calculates that Q1 operating EPS will be $24.13, up 1.7% from Q4'11 and +7% YoY. Q1 EPS would thus beat downwardly revised estimates by 1.5%, nothing to write home about, especially since Q2 estimates ($25.89) are not rising, nor are Q3 ($26.88) and Q4 ($28.33) estimates.
Sales are estimated to have increased 6.5% YoY in Q1'12, down from +7.9% in Q4'11 and +10.4% in Q3'11.
How can earnings rise 19% during the next 3 quarters remains a mystery to me…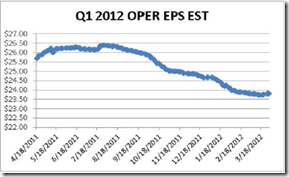 The beat rate has declined markedly in the last 2 weeks and is now 67%. It was 70% one week ago. Importantly, the "Missed" rate jumped from 17% last week to 23% this week. So, even with the sharp downward revisions preceding quarter end, nearly one in four companies have missed. The next chart from The Boeckh Investment Letter provides a clue.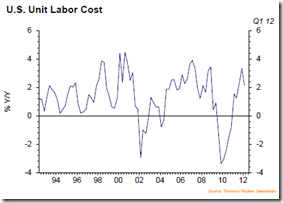 Disclosure: I have no positions in any stocks mentioned, and no plans to initiate any positions within the next 72 hours.