EURUSD
Climbing for both 7 for the last 8 days and 7 of the last 8 weeks, the Euro has looked impressive being given the go-ahead from Bernanke and the German Court. With the trend being so strong, I'm really looking for longs. However, the price action is feeling a bit parabolic and climactic at this point.
Usually climactic price action leads to a consolidation or pullback before the next leg up. Thus, I'll wait for a pullback before getting long. Levels for getting long are 1.300 and 1.2933 (or a really deep pullback to 1.2820). On the other side, bears can look for possible shorts on weakness heading into the weekly highs at 1.3167.
(click to enlarge)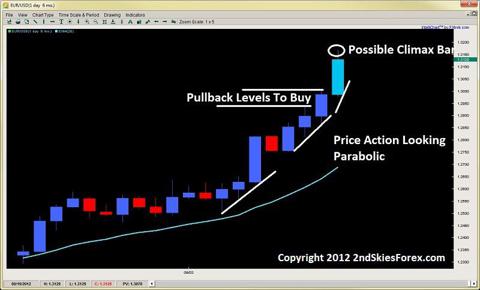 Click to enlarge
AUDUSD
Ending last week gaining for of its last 5 days, the Aussie finished a little weak forming a pin bar pattern off the key 1.0600 swing highs. Looking at the nature of this pin bar, I'm suspecting there will still be a 2nd attempt into the daily pin bar highs around 1.0600.
In regards to this level, I'll look for pullbacks on the 4hr/1hr time frames to take an intraday short off this level. Meanwhile, bulls can look for a pullback towards 1.0533 or 1.0472 to rejoin the uptrend.
(click to enlarge)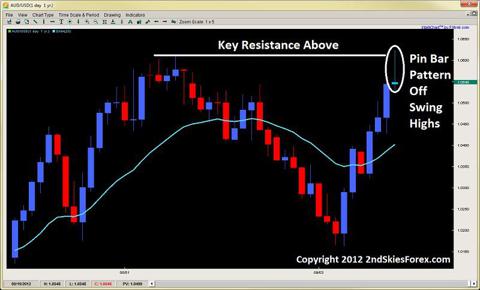 Click to enlarge
Make sure to check out my newest articles:
Daily and 4hr Price Action Strategies
'Getting Back Your Losses' in Trading